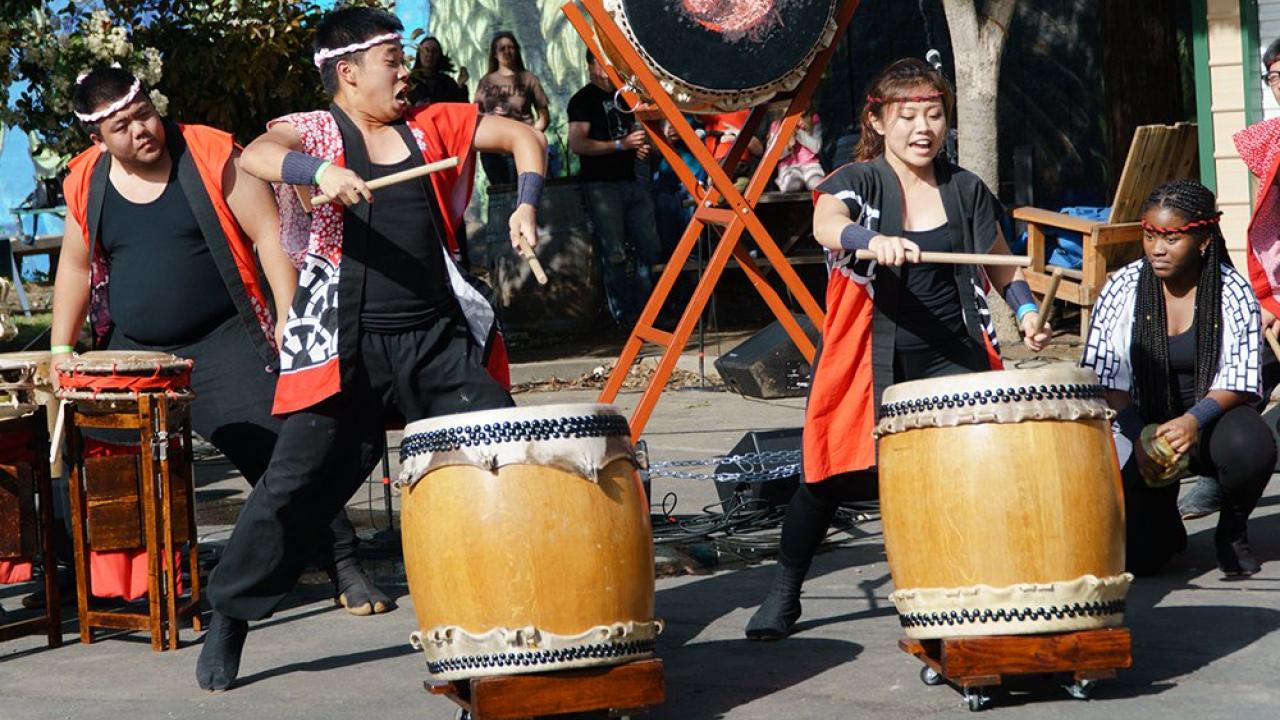 By Wendy Weitzel, Davis Enterprise
"The fourth annual Davis Cherry Blossom Festival will be a regional music festival and celebration of Japanese culture.
Presented by Bakuhatsu Taiko Dan and Sudwerk Brewing Co., the all-ages weekend includes music, food, art, culture and beer. The event is from 11 a.m. to 10 p.m. Saturday, April 6, and 11 a.m. to 9:30 p.m. Sunday, April 7, at Sudwerk Brewing Co., 2001 Second St. in Davis.
The event incorporates two stages featuring music and lots of traditional Japanese drumming. There will be food and arts vendors, a local artists' gallery, interactive educational and cultural demonstrations, games and more. It all celebrates the annual arrival of the pink cherry tree blossoms, revered for centuries as a symbol of the beauty and fragility of life. Known as sakura, the blossom is Japan's national flower. The blooms often coincide with Buddha's birthday, celebrated on April 8.
More than 30 musical acts will perform during the two-day festival, including Tanukichan, Jessica Malone, The Brothers Reed, The Midnight Dip and Big Sticky Mess. The event is made possible, in part, by a grant from the city of Davis Arts & Cultural Affairs fund.
...
"Our festival celebrates the diversity of voices shared through music, and through our history, we see music as a powerful instrument of social change and a voice for peace and understanding," said Gregory Wada of Bakuhatsu Taiko Dan.
Demonstrations and activities include: Ikebana (flower arrangement) demonstrations by the Sacramento chapter of Ikebana International; origami demonstrations by Davis Origami Group; shibori tie-dying with Alicia Decker of the UC Davis Design Museum; mochitsuki (rice-cake making) sponsored by the Buddhist Church of Florin; shishimai (Japanese lion dance) by Miyo Uchida from the UC Davis Japanese department; and live painting by Gregory Shilling. Bakuhatsu Taiko Dan will provide community taiko lessons, chochin (paper lantern) decorating, and matsuri games.
...
Other sponsors are: Yolo County Visitors Bureau, UC Davis Global Affairs, the Davis Odd Fellows Lodge and the Sacramento chapter of the Japanese American Citizens League. The following organizations are providing volunteers: Japanese American Student Society, Nikkei Student Union at UC Davis, and Davis Aggie Lions Club.
For more information, including an entertainment schedule, visit the festival website at https://davischerryblossomfestival.weebly.com."
Read the full article at Davis Enterprise.
Category