The Necessity of Global Exchange in a Digital World
Former U.S. Ambassador and current chair of the J. William Fulbright Foreign Scholarship Jeffrey Bleich speaks to UC Davis graduating international students about truth, technology and trust
By Rowan O'Connell-Gates, student writer, Global Affairs
"The antidote to misinformation is exchange: to send truth-tellers around the world. Truth-tellers—mathematicians, scientists, musicians—return from places and can tell people objectively what they saw and experienced and learned, and restore critical and analytical minds."
UC Davis graduating international students, their families, friends, and supporters hung on every word as former U.S. Ambassador to Australia and the current Chair of the J. William Fulbright Foreign Scholarship Board Jeffrey Bleich spoke about truth, technology and trust.
His keynote address at the 2019 International Graduation Celebration in June centered on global exchange in the digital world. The celebration also featured remarks from Provost and Executive Vice Chancellor Ralph J. Hexter, Vice Provost and Associate Chancellor of Global Affairs Joanna Regulska, Director of Services for International Students and Scholars Wesley Young, and graduating managerial economics major Rannie (Langan) Zen.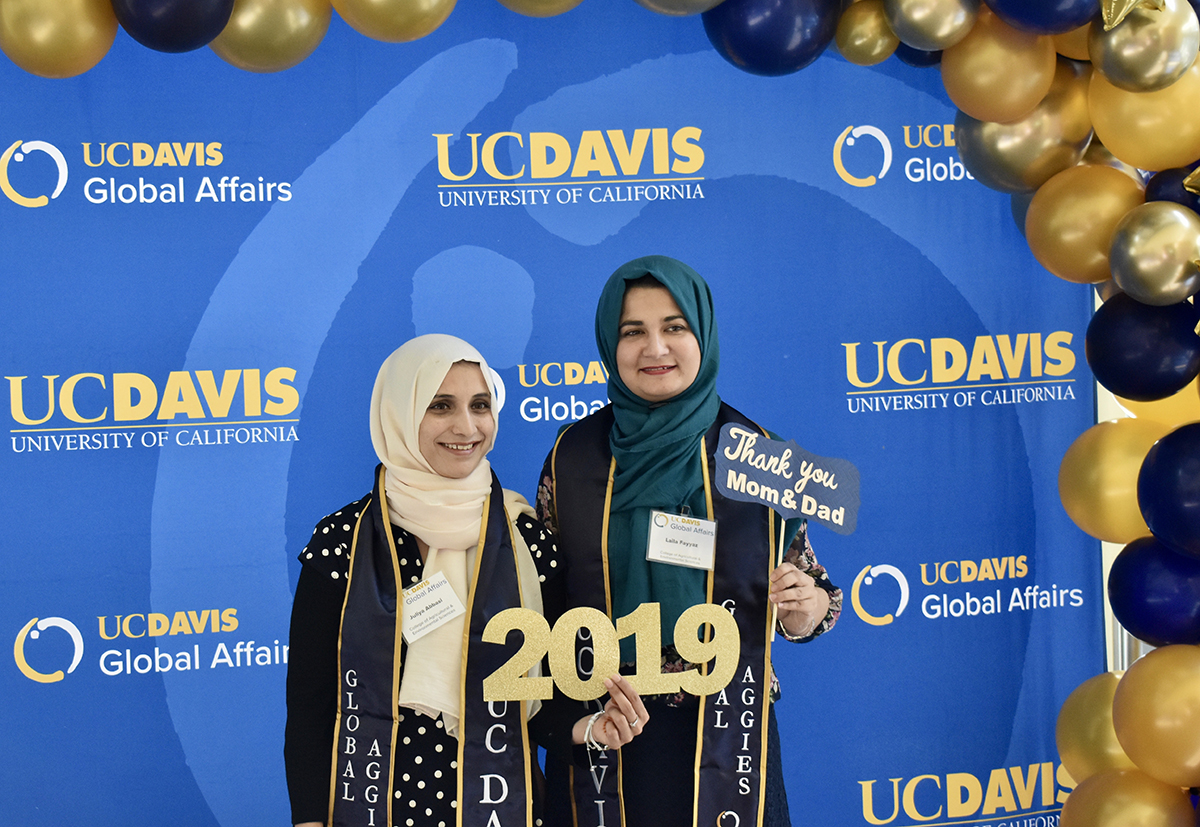 Building Connections to Last a Lifetime
With a career spanning 25 years in law, foreign policy, and domestic politics, Bleich has spent his life honing in on the necessity of global exchange.
"We send our best and brightest young people to each other's shores for a reason—to meet new people, to learn new things, to share facts and skills, and to build the deep and supple connections that last a lifetime," Bleich said.
With a deep passion for law and politics, Bleich has built a career on proactive problem solving. Along that path, Bleich has continually found himself arriving at the conclusion that global exchange and education are key to creating a collective of problem-solvers.
"To me if you care about any issue, whether it's climate change or homelessness, as you start looking into it, you eventually realize that you'll have to go global with it," Bleich said.
"It helps you think differently. You gain new perspectives, you work with people who were trained differently from you, who may speak a different language, and all that together gives you a humility that is key to solving any problems," he said.
Bleich's sentiments align with UC Davis' "Big Idea" of Global Education for All—a goal to provide each and every UC Davis student with meaningful global learning experiences before graduation.
"Given our shared visions related to global exchange and mutual understanding, we are proud to partner with the Fulbright Program on opportunities for UC Davis students, faculty and staff—especially as we continue working towards Global Education for All," said Regulska, who is the champion of the campus initiative.

UC Davis Ranked Among Top Producers of Fulbright Students
The University of California, Davis, has been named one of the top producers of U.S. Fulbright students for 2018-19, according to the U.S. State Department's Bureau of Educational and Cultural Affairs.
During her remarks at the 2019 International Graduation Celebration, Regulska acknowledged the unique experiences international students bring to campus and the cultural and professional skills they gain from adapting and learning in new environments.
"With a degree from UC Davis—a university ranked as the 5th best public university in the U.S. and recognized among the top in the world in various fields—you are already set apart from other graduates," Regulska said.
"You are even more prepared for today's world because of your time as an international student, surrounded by students, faculty, scholars, staff, and community members from hundreds of countries and countless backgrounds," she said.
The Power of Global Exchange
Bleich fondly recalls the moment he realized the power of global exchange. As a young professional working for the International Court of Justice in The Hague, he was assigned to the Iran-U.S. Claims Tribunal. It was there, over a game of ping pong, that Bleich struck up a friendship and working relationship with his Iranian counterpart, despite the then fraught relationship between the U.S. and Iran.
Bleich's experience in the Netherlands served as the launchpad for his commitment to global exchange. With emerging technologies and increased use of the Internet, Bleich sees global exchange as being more important than ever, particularly in combating bigotry and ignorance.
"Technology is supposed to serve human needs and aspirations. It should not overwhelm or undermine or end humanity," Bleich said. "At this moment, we can't tell where many of these new technologies will take us. How do we ensure that these technologies will allow all of us to lead better lives—not just some of us? How do we ensure that the information age improves our understanding, rather than overwhelming it? It is moments like this when global exchange proves its value."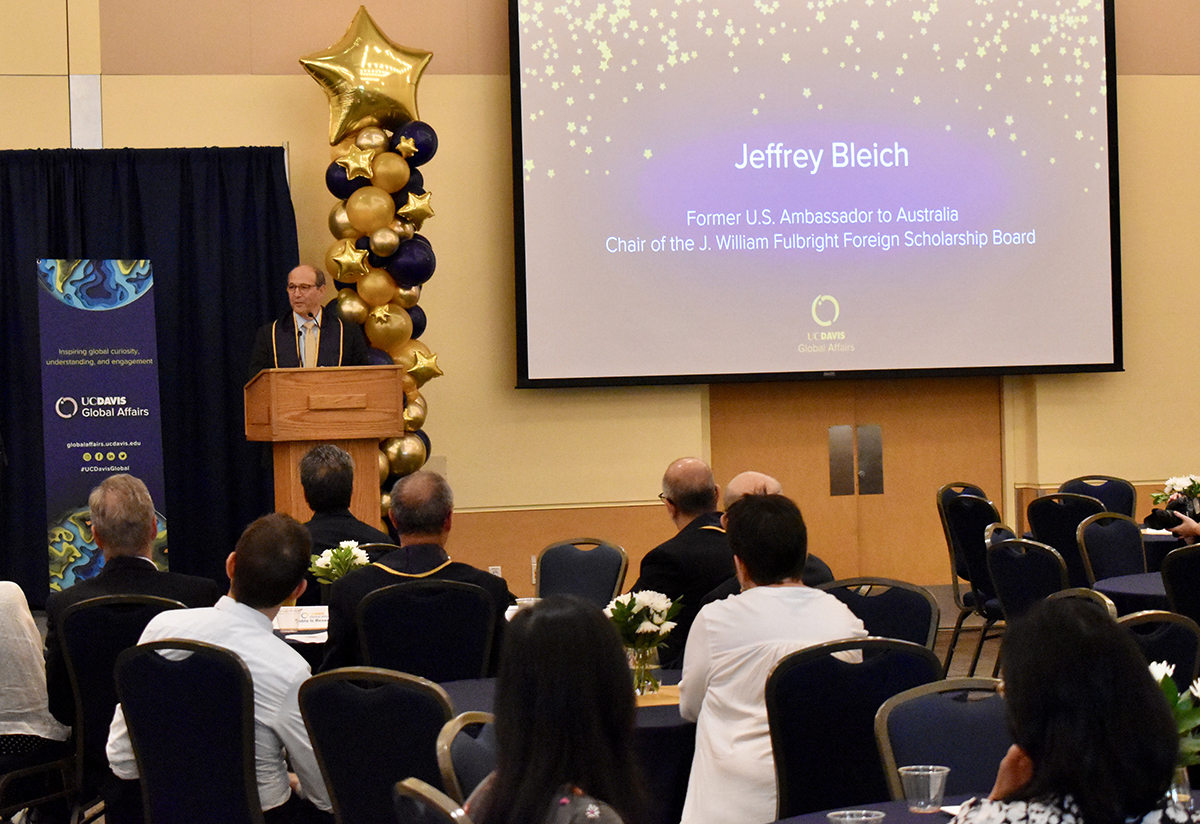 Technology and Truth
Bleich further buoyed his call for global exchange by honing in on the emergence of "fake news" and a lack of truth in the digital era. He drew comparisons to the lies spread during World War II and the disinformation campaigns of Russia upon recent U.S. elections, drawing attention to the digital attack on trust. Much like technology and truth, Bleich's answer to the issue of trust lies in supporting global exchange.
"As countries, we say this to one another with each cultural and individual exchange. We say, 'Send us the pride of your nation. We will make them safe in our country,'" Bleich said. "'We will connect them with our best schools, introduce them to our finest minds, and treat them as our own. And we will return them to you enriched by the experience, so that they can share it with you. And we trust that you will do the same.'"
As he concluded his remarks, Bleich paused and looked out into the onlooking audience of UC Davis faculty, staff, and international students, their families, and supporters from around the world.
"We share our best minds with humility. We send them abroad because we know we do not have all the answers. No nation has a monopoly on good people and good ideas," Bleich said.
"Instead, we all need our best minds to stretch out across the world and gain new insights to answer unsolved mysteries. The minds that are producing disruption need to go out to disrupted spaces to answer a different question. Not where technology could take us, but where it should take us. And those minds are you."
---
About Global Affairs at UC Davis
Global Affairs brings the world to UC Davis, welcoming more than 10,000 international students, scholars and leaders, and hosting programs that inspire global curiosity, understanding and engagement. Compelled by the valuable outcomes of thinking globally, we make transformative opportunities a reality by supporting the thousands of students and faculty studying and researching internationally-and by facilitating collaborations that tackle the world's most pressing problems through more than 150 international partnerships.
Putting our vision of a UC Davis community that engages, thrives, and leads in this interconnected world into action, Global Affairs is now in pursuit of an ambitious goal: Global Education for All.
About the Fulbright Program at UC Davis
The Fulbright Program offers a range of research and professional exchange opportunities for UC Davis faculty and staff in over 130 countries—and brings international scholars and students here for collaborations that transform the campus community and build bridges to all parts of the world.
Primary Category
Tags