UC Davis Researcher Represents Early Career Scientists at 2022 Summit of the Americas
From June 6–10, 2022, representatives from 23 countries convened in Los Angeles for the Summit of the Americas, the only hemispheric meeting of leaders from countries in North, South and Central America and the Caribbean. Held every three to four years in locations across these regions, the ninth summit focused on "Building a Sustainable, Resilient, and Equitable Future" and brought together government leaders as well as civil society and social actors—including Paulina Carmona-Mora, a research scientist in the Department of Neurology at UC Davis Health, who studies how gene expression changes after a stroke.
Carmona-Mora, an international scholar, has a passion for science diplomacy. She is a member of the Global Young Academy, an international organization comprised of 200 scientists working together on evidence-informed global, national and regional decision-making, among other activities. She attended the Summit to represent the Global Young Academy.
"I lead the Science Diplomacy in the Americas Incubator Group and gather information on current science diplomacy strategies, which is what I brought to the summit from the perspective of a Latina scientist working in the U.S.," she said. "We are a group of mostly Latinos, young scientists, many of us diaspora scientists from different scientific disciplines."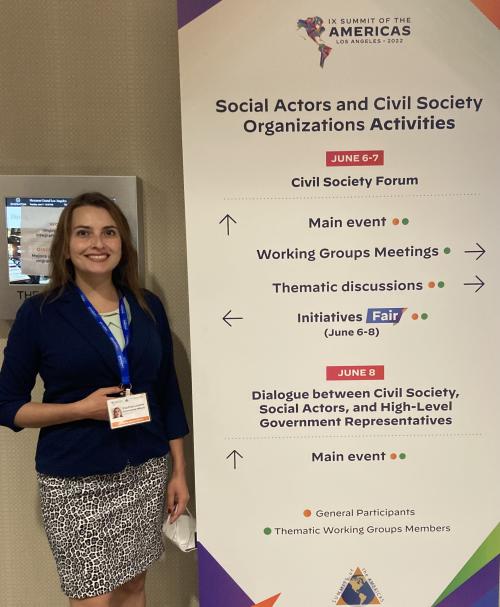 Carmona-Mora was selected to participate in the Civil Society Forum at the Summit of the Americas. This forum provided the opportunity for civil society organizations, Indigenous peoples, youth, and private sector and labor union representatives from across the Americas to exchange ideas, best practices and lessons learned, as well as to develop recommendations to present to high-level members of government.
To support the Civil Society Forum, thematic working groups started meeting months before the five-day event and included myriad representatives from non-governmental organizations.
"It was very impressive to see so many Cubans and Venezuelans who risked coming to the summit in order to have a voice," she said. "They wanted to show what was happening in their countries. They contributed with conclusions and recommendations to high-level representatives from governments across Latin America and the Caribbean."
The summit also featured a series of discussions and panels focused on "Building a Sustainable, Resilient, and Equitable Future" in the Americas. This included sessions on health, digital economies, the clean energy transition, democracy and migration, which Carmona-Mora said were all grounded in the UN Sustainable Development Goals. This set of 17 goals seeks to mobilize all UN members states to take concrete steps to achieve sustainable development across economic, social and environmental dimensions.
"The thematic discussions on these topics provided a space to hear different ideas on how to advance these goals," she said. "After listening to discussions about the migration crisis on our continent and the democracy issues several countries are facing, I realized how important it is for scientists in Latin America to contribute strategies while also acknowledging which issues are most pressing."
Carmona-Mora said it was also great to see countries that usually don't have high visibility in international forums getting the chance to engage with top government officials from across Latin America and the Caribbean and to voice their concerns, from human trafficking coming out of Venezuela to Nicaraguans trying to locate detainees at the U.S.-Mexico border.
"There were very delicate issues being highlighted by these social actors, but no issue was seen as small, and everyone was putting a human face to the challenges that the continent faces," she said. "It was really great that all the representatives from different governments were able to witness this."
As a scientist, meeting a wide array of leaders from different countries and areas within Latin American societies—and seeing how they work on similar issues—will also help her research.
"It's not the same as scientists going to a conference in the U.S.," she said. "Because I'm from Chile, I talked with the Chilean president. I also had the chance to talk to several representatives from Chile, including the Chilean ambassador to the U.S. I was so surprised that they wanted to listen to me. They wanted to know about my work. They wanted to know what scientists could bring to the table. And I told them what we need is the space for dialogue—we just need the space. And they were like—OK, let's organize meetings after this. They were really keen to talk."
Following the summit, many initiatives that civil society and social actors spearheaded are starting to be implemented by the foreign affairs ministries of participating countries.
"Because I work primarily on research in genomics and neurology, it's important to see how my skills can contribute somewhere else and help generate more meaningful and horizontal connections with other countries," she said. "As someone who works in science, it was a nice reminder to see how issues in different countries in Latin America and the Caribbean affect us all, and the role of young scientists leading the charge. In the end, I think that's why it's so important to involve the voices of social actors, so we can make all governments accountable." 
---
About Global Affairs at UC Davis
Global Affairs brings the world to UC Davis, welcoming more than 10,000 international students, scholars and leaders, and hosting programs that inspire global curiosity, understanding and engagement. Compelled by the valuable outcomes of thinking globally, we make transformative opportunities a reality by supporting the thousands of students and faculty learning and researching globally—and by facilitating collaborations that tackle the world's most pressing challenges through more than 150 global partnerships.
Putting our vision of a UC Davis community that engages, thrives, and leads in this interconnected world into action, Global Affairs is in pursuit of an ambitious goal: Global Education for All.
Primary Category
Tags