The 24 Young African Leaders Who Made My Summer
By Joyce Zamorano Sanchez, Mandela communications student assistant, Global Affairs 
Over the summer, UC Davis welcomed 24 young leaders from sub-Saharan Africa, each from different careers and cultural backgrounds, and each filled with eagerness to learn. I was by their side as a communication assistant for Global Affairs—taking pictures, writing notes for stories like this, documenting the experience on social media—but also gaining a new perspective about Africa, and its various cultures, academics, and community service, and overall the beauty of the continent and its people.
These young African leaders were part of the Mandela Washington Fellowship. This fellowship is the flagship program of the Young African Leaders Initiative (YALI), an effort to invest in the next generation of African leaders. It's a six-week program run by the U.S. Department of State and hosted by different colleges and universities across the country, designed to empower young people through academic coursework, leadership training, and networking. Global Affairs coordinates the program at UC Davis and hired student assistants like me to capture the experience.
At a community welcome reception for the fellows, Nigerian fellow Ikechukwu Iwuala delivered a brief address, but said something that would remain in my mind throughout their stay.
"Our goal is to simply learn as much as we can. Meet as many people as we can. And to interact with as many people as we can. But we also encourage you to learn from us…"
And learn I did.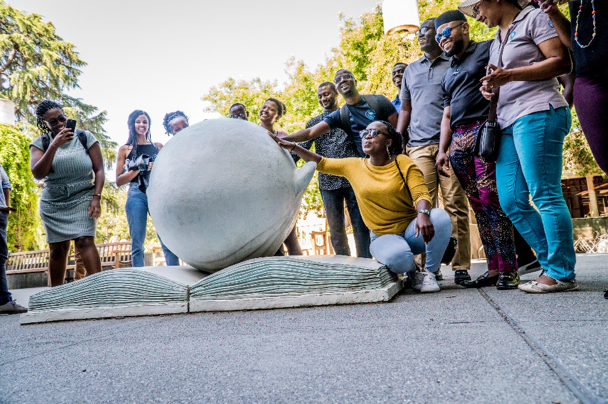 When the fellows first arrived, I welcomed them to our UC Davis community and took them on a campus tour (I'm also a campus tour guide, so it was a natural fit). When we got to the iconic "Bookhead," I described the tradition of rubbing his forehead before an exam, the fellows laughed and joined in the tradition, taking the opportunity to gain some luck as they embarked on this journey with us.
Part of the criteria to be a Mandela Washington Fellow is a demonstrated commitment to public service, similar to the emphasis on volunteerism at UC Davis, but I slowly learned that their dedication to their communities is like no other.
Finding inspiration in their dedication
In a conversation with Malawian fellow Ruth Mumba, she told me about her passion to serve others and how she was able to do so, regardless of the resources she had.
With stories of the challenges she has faced being director of the new non-profit—Abundance Worldwide—I saw how much she wanted to help her community, and how she persevered to find the support she needed. Finding that support often meant going the extra mile, knocking on doors, and continually networking in order to raise enough money to open an e-learning center for the village of Mbando, Malawi.
"We are able to do so much with so little," she told me, and it made me realize just how efficient nonprofits could be. Even when support does not seem present, Ruth helped me understand that we should not give up, and we be persistent in getting the help we need for our communities.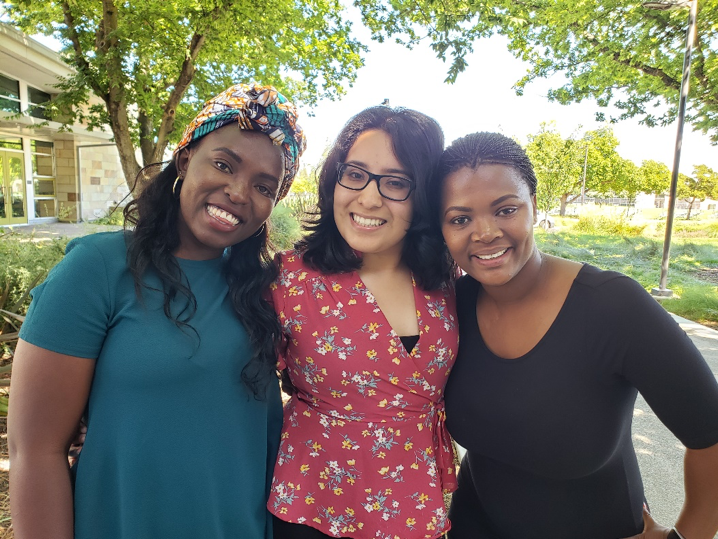 I continued to be amazed by the dedication and perseverance of our fellows. When I met Larissa Kambani and learned more about her, I was impressed by her drive to pursue engineering as a woman with a disability, something that was not actively encouraged for her growing up.
Because of the way academics are structured in her country, the Republic of Congo, Larissa had to decide what type of career she wanted to pursue at only 12-years-old. Having found a passion for science and math, Larissa chose the engineering route and began a career in a field dominated by men.
Facing setbacks because of her disability and not having the resources available to practice a career in electrical engineering, Larissa searched for internships and funding—anything that would give her the opportunity to do what she was passionate about and allow her to prove just how much she was capable of accomplishing.
Her hard work did not go unnoticed. When she graduated university, she was guaranteed a job on an oil rig—as the only woman on duty. Larissa did not let this discourage her, and instead, her experience drove her to encourage other young girls to pursue a career in STEM.
From Larissa, I learned the importance of using perceived disadvantages to your advantage, and to create not only a path for yourself but a path for others in the future. As a first-generation college student of color, I see similarities between Larissa's story and my own. Growing up I remember times when I was the only one of color in my advanced classes, and although at times I felt intimidated and wondered why, I knew not let it get to me.
Similar to how Larissa is now volunteering at the nonprofit Connect Women, assisting other girls to reach careers in STEM, I will be there to help other young girls of color like myself reach their dreams of attending university. If I could do it, why not them?
Seeing Africa through their eyes
The immense pride they have in their backgrounds and their eagerness to demonstrate who they are is something I will never forget about the Mandela Washington Fellows. In a conversation with Yuckmila Chooneea from Mauritius, I found out that she hoped to make it clear just how unique every single one of the fellows' countries were—they were not just "Africa."
The way Yuckmila passionately described Mauritius and showed me pictures of home made me feel as though I had visited the country myself. Talking about the global issues they faced in Mauritius, and hearing how the networking opportunities she had as a fellow could assist her in her job back home, helped me understand how at the end of the day, she was a fellow not just for herself but for her country. She came to UC Davis to grow and meet people so she could apply everything she learned here to benefit her home.
"Being a Mandela Fellow is not just the title and experience; now we have to earn it," Yuckmila told me.
And I believe that is something I have learned from her. It is not enough to do something, witness it, and learn—one has to use the opportunities that have been given to them to help others.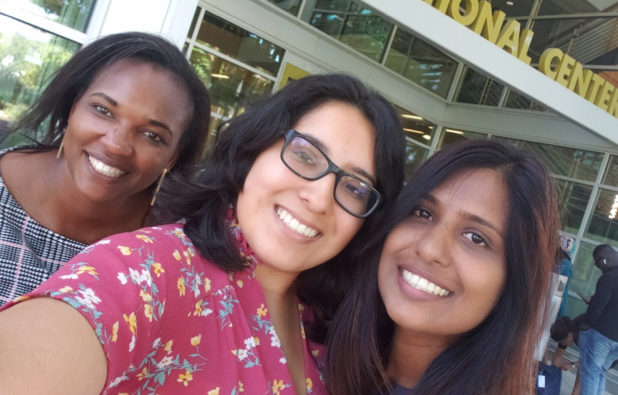 Deciding to spend the summer working in Davis
Many people asked me why I decided to stay in Davis over the summer instead of returning home and relaxing. The truth is, I was looking for an opportunity to learn—both professionally and globally. For personal reasons, I haven't yet had the opportunity to go out and explore the world.
Having the Mandela Washington Fellows in Davis, it was as if the world was brought to me.
From the colorful garments and delicious food to the souvenirs they brought from home to share with us, I learned a lot about different African countries and some of their people.
Meeting the fellows and joining their activities also gave me an opportunity to grow as an individual and gain job experience in the field of communication. Between explaining the various customs, we have here in the U.S. (like our college system) and teaching them the most efficient ways to use their social media, being a communications assistant with the UC Davis Mandela Washington Fellows gave me the opportunity to cultivate new experiences—and I had the most fun doing so. I tried my best on social media to show the rest of campus and the community how fantastic the UC Davis Mandela Washington Fellows were (hopefully you saw the UC Davis Instagram takeovers or the UC Davis Global Instagram stories!).
The six weeks I spent with the fellows was a one of a kind experience that I will never forget.
Truly, I believe these young leaders are the future of Africa, and I know that every single one of them will do great things with everything they have been able to learn. All 24 of them showered us with thank yous on their last day with us, but I can only wish they know how thankful I am.
They gave me a Global Aggies experience while being here in Davis; I'm eager to see where this experience will take them.
---
About Global Affairs at UC Davis
Global Affairs brings the world to UC Davis, welcoming more than 10,000 international students, scholars and leaders, and hosting programs that inspire global curiosity, understanding and engagement. Compelled by the valuable outcomes of thinking globally, we make transformative opportunities a reality by supporting the thousands of students and faculty studying and researching internationally—and by facilitating collaborations that tackle the world's most pressing problems through more than 150 international partnerships.
Putting our vision of a UC Davis community that engages, thrives, and leads in this interconnected world into action, Global Affairs is now in pursuit of an ambitious goal: Global Education for All.
---
About the Mandela Washington Fellowship
The Mandela Washington Fellowship for Young African Leaders is a program of the U.S. Department of State, administered by IREX. The University of California, Davis, is a sub-grantee of IREX and is supporting the U.S.-based academic program of the Fellowship.
Primary Category
Tags