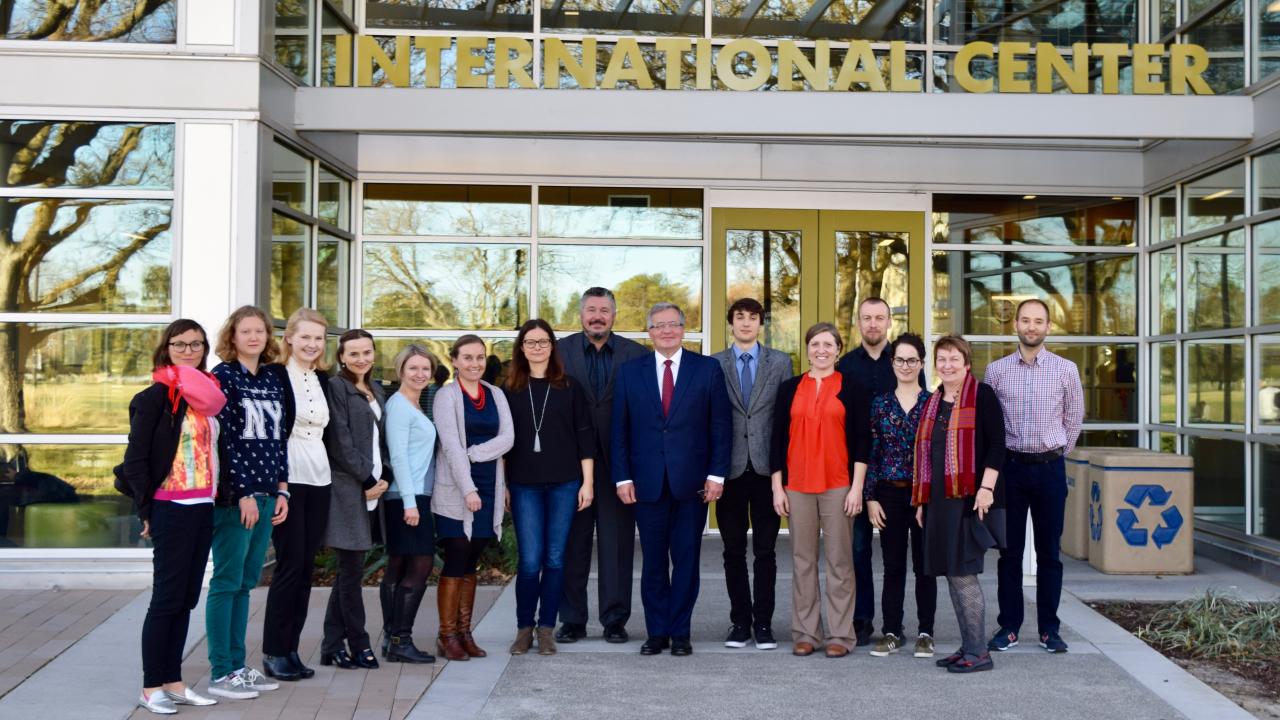 By Bonnie Shea, director of communications, Global Affairs

Just before fall term wrapped up and students took off for winter break, the Former President of the People's Republic of Poland, Hon. Bronisław Komorowski, paid a visit to the University of California, Davis.
Prior to his Dec. 7 lecture on "Dilemmas of European Integration following Brexit," Komorowski joined Polish faculty, visiting scholars, staff, and students for a luncheon, took a tour of campus, and met with Provost and Executive Vice Chancellor Ralph J. Hexter and Vice Provost and Associate Chancellor of Global Affairs Joanna Regulska.
Remarking on the busy day and his visits with other area universities, Komorowski said, "I am very impressed by the intensity of university and academic life in California. I think what makes the biggest impression on me is this diversity of people, of academic subject, of languages being taught, of ethnicities that you see at these schools and in these academic contexts."
"And this reminds one, of course, of the fact that the word university comes from the word universal and kind of signifies this all-encompassing structure," he said.
Komorowski brought significant wisdom and expertise to share, having served the Republic of Poland as a Member of Parliament, Minister of National Defense, Speaker of the Sejm, and, from 2010-2015, as President, before creating the Bronisław Komorowski Institute to continue advocating for freedom, dialogue, and security.
Experienced in leading at the international and national levels, while forging new connections between local governments and people, Komorowski described his take on balancing being both global and local. "The world is composed of small homelands. What this means quite simply is that you have to love your own homeland, even the smallest unit of the social world from which you come, but also recognize that everybody else loves their own native land as well," he said.
Given the current political landscape, including the recent Brexit decision in Europe, this notion isn't always realized. "The world is afraid of globalization today," Komorowski explained.
"But a lot of societies are really putting their hopes in globalization, on a development of different forms of life, and on the growth of democracy. So, for students, the number one piece of advice I would give them is to get interested in other people's small local homelands while never losing sight of love for their own," he said.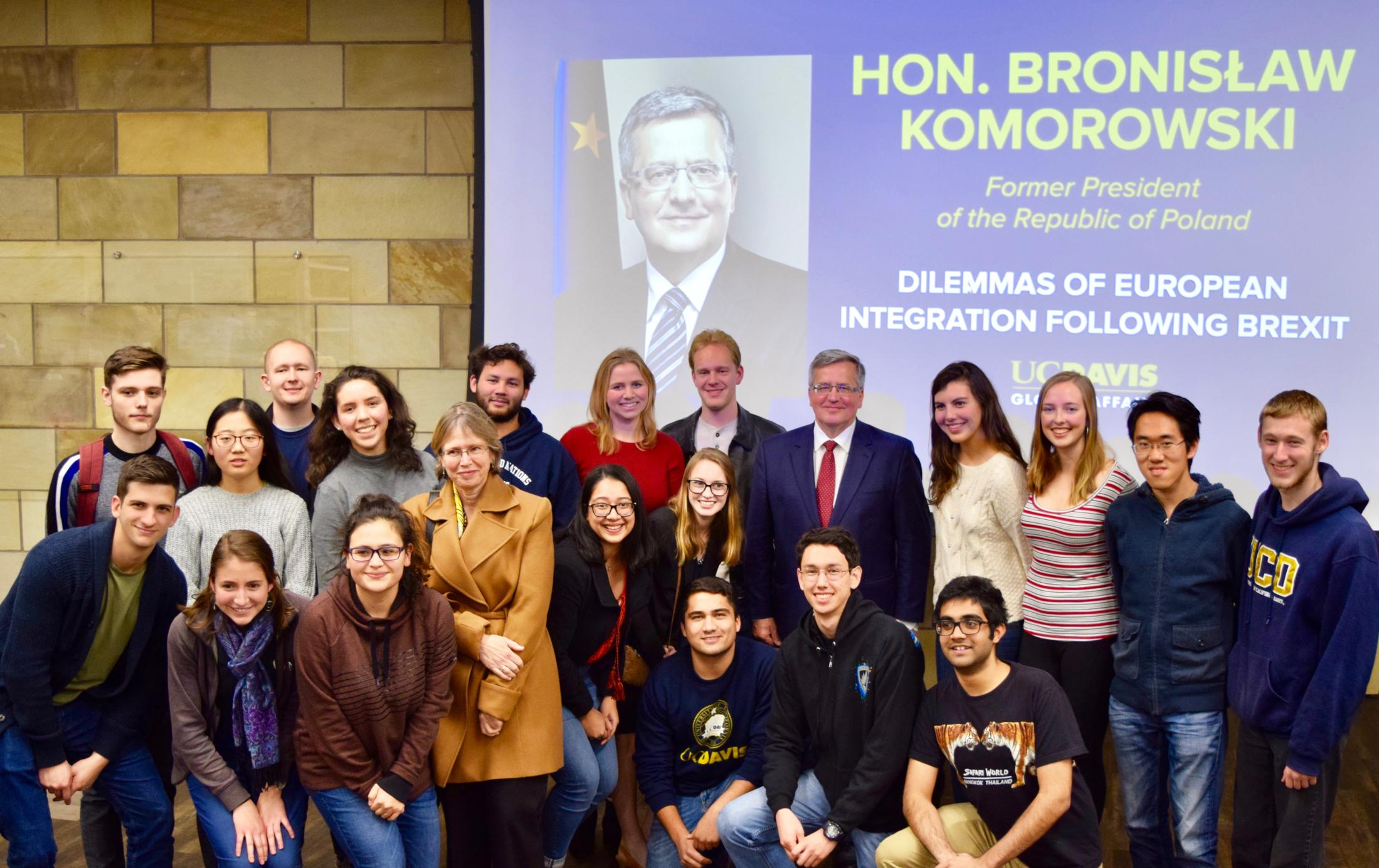 Komorowski's lecture and the subsequent discussion was introduced by Robb Davis, City of Davis Mayor and advisor in Services of International Students and Scholars. The talk, which brought around 120 people to the UC Davis International Center, focused on the issues related to globalization and integration facing the Western world from the East Central-European perspective.
"I think that we all feel that we are living in times of great crisis for the West. The key insight of my talk is that in the world of giants, you have to be a giant as well. And the Western world, if it does not consciously and conscientiously integrate, will find itself playing a smaller and smaller role on the world stage," he said.
Brexit has implications for higher education in Europe and beyond as well, according to Regulska, a Poland native. "Generating new ideas, learning new languages, opening doors, and building networks and collaborations depends so much on the mobility of faculty, students, and scholars across the world. The intercultural understanding that is so important won't happen without this mobility," she said.
Paulina Zielinska, director of the Office for Global Programs in the School of Veterinary Medicine—and a native of Poland, echoed this sentiment.
"One of the benefits of international engagement is exposure to other cultures and as a result, gaining intercultural awareness. As President Komorowski highlighted in his talk, we are a global society and it is incredibly important for all of us to effectively communicate with people from different cultures," she said.
Zielinska, who's own global health work in India was transformational for her career, added, "I very much appreciate his insight on how we can use our global experiences to give back to our communities at home, wherever home may be."
President Komorowki's visit and lecture was sponsored by Global Affairs; the Department of German and Russian, Department of Political Science, International Relations Program, Migration Research Cluster, and UC Davis Humanities Institute in the College of Letters and Science; the School of Law; UC Davis Extension; and Taube Philanthropies.
---
About Global Affairs at UC Davis
Global Affairs brings the world to UC Davis, welcoming more than 8,400 international students, scholars and leaders, and hosting programs that inspire global curiosity, understanding and engagement. Compelled by the valuable outcomes of thinking globally, we make transformative opportunities a reality by supporting the thousands of students and faculty studying and researching internationally-and by facilitating collaborations that tackle the world's most pressing problems through more than 150 international partnerships.

Putting our vision of a UC Davis community that engages, thrives, and leads in this interconnected world into action, Global Affairs is now in pursuit of an ambitious goal: Global Education for All.
Category
Tags