UC Davis Humphrey Fellows Share Stories at International Women's Day Event
By Rowan O'Connell-Gates, student writer, Global Affairs
On Sunday, March 11, International House Davis hosted three of UC Davis Global Affairs' Hubert H. Humphrey Fellows, accomplished mid-career professionals spending 10 months in the United States for professional development and collaboration. In the spirit of International Women's Day, the fellows, all three of whom are women, collectively spoke about the relationship between gender and their livelihoods.
Laila Annouri began the event with her presentation on the subject of women as it relates to her work in conservation and natural resources. Her story was captivating. Born in the conservative northern region of Morocco, Annouri grew up in an environment where women rarely have access to education and empowerment. But from an early age her mother, despite being unable to read and write herself, instilled in Annouri the belief that she had the same rights as anyone else. She took the message to heart. Annouri worked hard in school and eventually gained entry to a prestigious Moroccan engineering school. After graduation, she joined the ranks of Morocco's forestry engineers.
"I wanted to share with people that when women want something, we can get it. And it doesn't matter where you are born or where you grew up," said Annouri. "The most important thing is who you are and what you want to achieve. Doors will open for you when you have that ambition."
Selenge Chadraabal shared these same sentiments during her presentation on the relationship between women and the economy. Hailing from Mongolia, Chadraabal is the CEO and founder of Organic Protein, LLC. Her company specializes in the farming and distribution of quail eggs throughout Mongolia. She started her company when she and her husband recognized their family's health was suffering. They decided to address the issue by changing their diets to more organic food. The diet turned into a lifestyle. Organic Protein, LLC is the realization of Chadraabal's dreams to provide a delicious healthy product to the Mongolian public.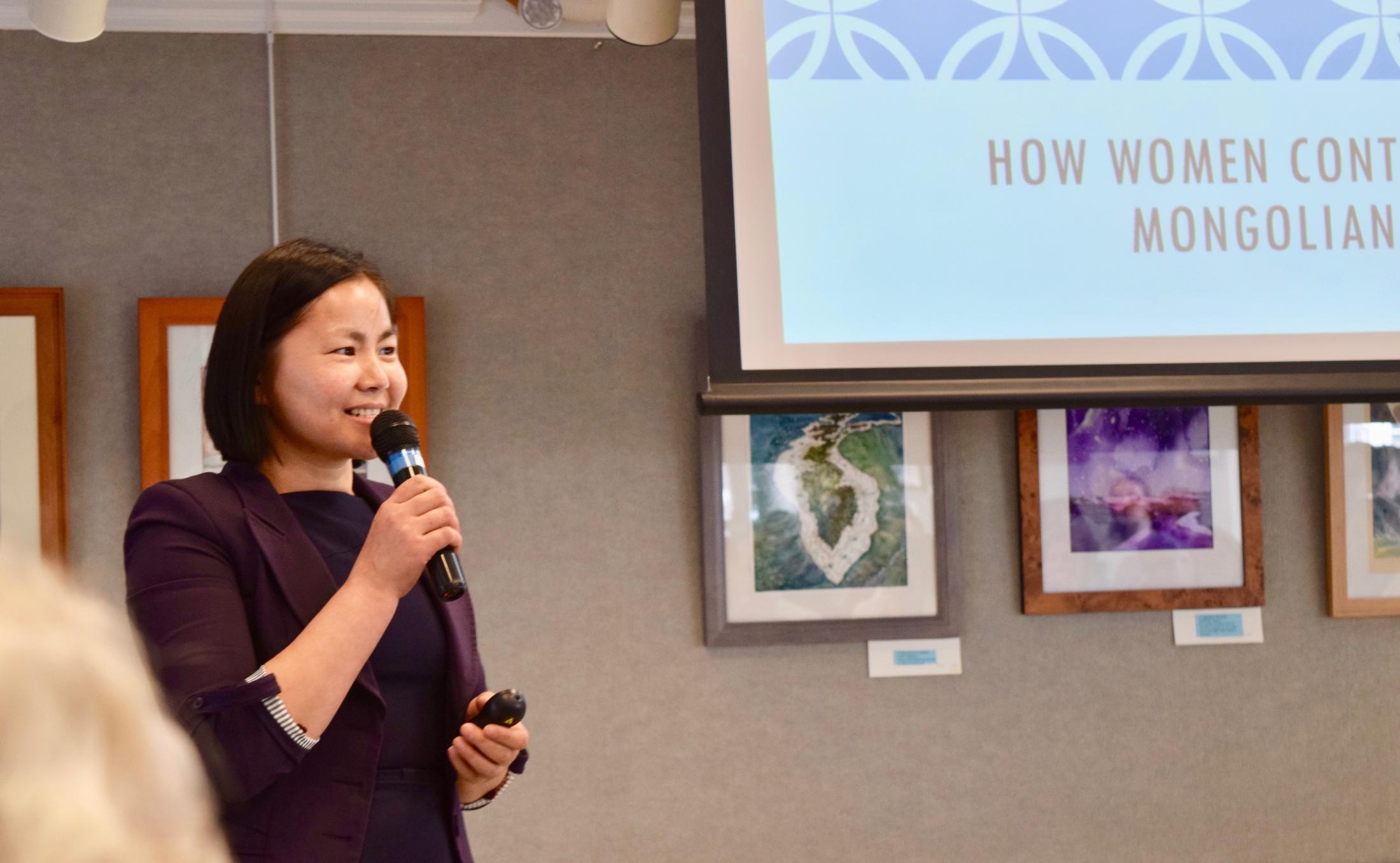 In addition to her career, Chadraabal discussed the cultural and societal aspects of being a woman in Mongolia. Chadraabal explained that population growth is greatly encouraged in the country. Despite its territorial size, Mongolia's population sits at the relatively small count of three million, so the government gives out medals to women having children to encourage growth. Additionally, Chadraabal spoke about the scarcity of women CEOs like herself in Mongolia. Much like other parts of the world, the highest positions in Mongolian companies are usually held by men.
The event was rounded out with a presentation by Fernanda Gonzalez. Her focus was on the relationship between gender and water in Ecuador. Gonzalez is a biologist in training and has spent the last few years working as a monitoring and evaluation officer for the World Wildlife Fund. She spoke about her early work conducting research on Costa Rican and Ecuadorian water systems. Despite having gender diversity on her water research team, Gonzalez has often found opportunities to be limited for herself and other women in her field, but she's never let it hold her back. If anything, Gonzalez has used her experiences to push her even more.
"It's always important to show not only how we can send a message, but how we can also call for action," said Gonzalez. "When you think about the concept of equality, we need to give men and women the same opportunities: opportunities of education, jobs, and decisions. That begins and ends with action."
Joanna Regulska, vice provost and associate chancellor of Global Affairs, was among those in attendance for the community talk. A professor of Gender, Sexuality and Women's Studies, Regulska is very aware of the importance of recognizing women's contributions and hard work.
"It was fascinating to hear three different stories from three different countries from three different contexts and yet, so many similarities," said Regulska. "It's striking. These stories reinforced what feminist scholars have argued for a long-time that we have to apply inter-sectional approaches, because otherwise we cannot eliminate discrimination and marginalization of women."
The success of Annouri, Chadraabal, and Gonzalez sends an important message. These three women are flipping the script of discrimination and their achievements speak volumes to the progress being made. To continue their success and the success of other women, the Humphrey Fellows focused on the theme of action. It was an overlapping message amongst the three speakers—and Regulska echoed its importance.
"The fact is that education should start very early on, at home," Regulska said. "If we want to eliminate discrimination and marginalization of women, we have to pay attention to not only large social and political structures, but also to everyday practices. We have to make conscious efforts to recognize women's enormous contributions to their families, communities, nations, and more generally to the well-being of this planet. We have to treat them equally."
---
About Global Affairs at UC Davis
Global Affairs brings the world to UC Davis, welcoming more than 8,400 international students, scholars and leaders, and hosting programs that inspire global curiosity, understanding and engagement. Compelled by the valuable outcomes of thinking globally, we make transformative opportunities a reality by supporting the thousands of students and faculty studying and researching internationally-and by facilitating collaborations that tackle the world's most pressing problems through more than 150 international partnerships.

Putting our vision of a UC Davis community that engages, thrives, and leads in this interconnected world into action, Global Affairs is now in pursuit of an ambitious goal: Global Education for All.
---
About the Humphrey Fellowship Program
The Hubert H. Humphrey Fellowship Program provides a year of professional enrichment in the United States for experienced professionals from designated countries throughout the world. The Humphrey Program is a Fulbright exchange activity that is administered by the Institute of International Education (IIE), with primary funding provided by the U.S. Congress through the Bureau of Educational and Cultural Affairs of the U.S. Department of State.
Primary Category
Tags