UC Davis Named a Finalist of Two PIE News International Education Awards
UC Davis Named a Finalist of Two PIE News International Education Awards
UC Davis has been named a finalist for two PIEoneer Awards, which celebrate innovation and achievement across all components of international education, by The PIE News, a leading independent media company for a global community of professionals.
"UC Davis is a leading global university contributing to a diversity of partnerships and opportunities on campus and around the world," says Joanna Regulska, vice provost and dean of Global Affairs. "This international recognition in particular is evidence of our strong commitment to innovation and collaboration in global education and in sustainability."
For the 2020 awards, UC Davis has been selected as a finalist of the Progressive Education Delivery Award thanks to the program Seminars Abroad Nepal: Community, Technology and Sustainability, jointly run by UC Davis faculty members Nancy Erbstein, associate professor in residence in the School of Education and associate vice provost of Global Education for All in Global Affairs and Jonathan London, associate professor of community and regional development in the Department of Human Ecology. The Hands On Institute, directed by co-founders Samrat Katwal and Bijay Poudel is the program's partner in Nepal, with Nepali students hailing from multiple campuses including Tribhuvan University, Kathmandu University, and Pokhara University.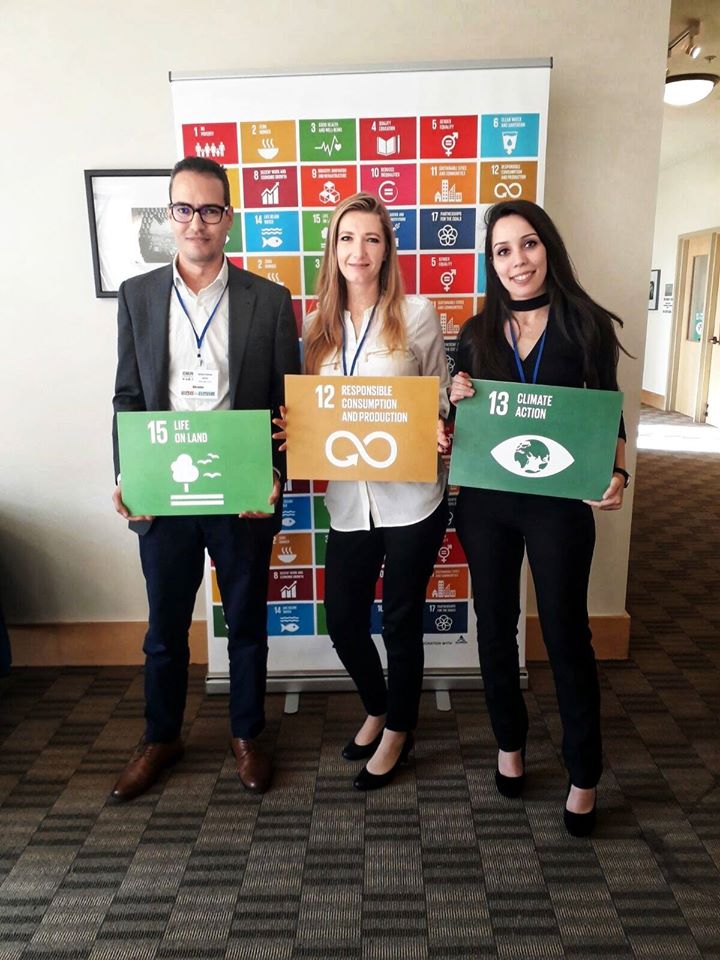 UC Davis has also been named a finalist of the Sustainability International Impact Award for its global work in sustainability, including engagement with the UN Sustainable Development Goals (SDGs). This focus recently resulted in Global Affairs and the Office of Sustainability discovering via survey that all 17 SDGs are being addressed by UC Davis experts in their research, teaching, and service. Moreover, for the past three years UC Davis has been ranked No. 1 in the U.S. and No. 3 in the world in sustainability by the GreenMetric World University Rankings, and regular campus forums on the SDGs are being planned for this academic year.
A Culture of Sustainability
"We believe this ranking record reflects our commitment and effort to lead and innovate in sustainability, assess our performance for improvement, and create a culture of sustainability," says Camille Kirk, director of sustainability and campus sustainability planner.
For Kirk, sustainability is about people—and that principle is at the heart of the SDGs. Her office has been partnering with Global Affairs on the World Climate Simulation, which directly highlights SDG 13: Climate Action. Additionally, her team is planning to build awareness about the SDGs through the student sustainability grant program, The Green Initiative Fund (TGIF).
"We won't have planetary health without human health and equity, and vice versa, and we won't have human health and equity without protecting our planet's health," she says. "We all have to act cooperatively across the globe."
Study Abroad, Reimagined
After Global Affairs communications student assistant and political science major Natalie Gutierrez enrolled in the Nepal: Community, Technology and Sustainability program, she spent the fall quarter on campus learning about Nepal's language and culture, as well as the various community development projects she could work on.
I was part of one of the teams enlisted to support a Dalit community that wanted to start a homestay program," she says. "After being assigned to that team, I worked with two other UC Davis students, and three Nepali students to create promotional materials.
"We were all exposed to the real-life challenges you encounter in international collaborations, such as how to navigate a team, ambiguity, and time and resource management, which left a big impact," says Gutierrez, who recently accepted a job at Google after her graduation.
The Nepal program pilot was supported by a Capacity Building Grant for undergraduate Study Abroad programming—funded by the U.S. Department of State—and a Global Affairs Seed Grant with the College of Agricultural and Environmental Sciences. It is based on a unique structure in which participants from multiple majors spend the fall academic quarter collaborating virtually with their Nepali counterparts, followed by a three-week onsite immersion in Nepal.
"It's a different model in terms of its structure and it being an interdisciplinary, project-based program," says Erbstein. "We're really interested in engaging the diversity of students who attend UC Davis as well as the diversity of students in Nepal—and doing that in ways that involve everybody in respectful, equitable and mutually beneficial collaboration with the diversity of local residents in our host community."  
London, who is also faculty director of the Center for Regional Change, says the structure also relies on a progressive view of social change at all levels, helping position students to become leaders who are globally aware, engaged, and empowered.
"This has to do with supporting locally-driven change in the village itself in terms of community empowerment and diverse sectors," he says. "It's also progressive in the sense of trying to reimagine the potential of Study Abroad."
Both see the Seminars Abroad Nepal program as a way to build transformative relationships across all sorts of boundaries, whether they be geographical, disciplinary or related to gender, culture, race or caste.
"If we're really serious about preparing students for global challenges and opportunities requiring equitable and ethical collaboration, students need opportunities to develop the skills, knowledge and understandings required to do that kind of work. That's really what we're trying to offer here," says Erbstein.
Updated October 2, 2020: At the PIEoneer Awards 2020, the UC Davis program Seminars Abroad Nepal: Community, Technology and Sustainability was "Highly Commended" for the Progressive Education Delivery Award.

---
About Global Affairs at UC Davis
Global Affairs brings the world to UC Davis, welcoming more than 10,000 international students, scholars and leaders, and hosting programs that inspire global curiosity, understanding and engagement. Compelled by the valuable outcomes of thinking globally, we make transformative opportunities a reality by supporting the thousands of students and faculty learning and researching globally—and by facilitating collaborations that tackle the world's most pressing challenges through more than 150 global partnerships.
Putting our vision of a UC Davis community that engages, thrives, and leads in this interconnected world into action, Global Affairs is in pursuit of an ambitious goal: Global Education for All.
Primary Category
Tags