UC Davis Study Abroad Instructors Celebrated for Commitment to Students
By Bonnie Shea, executive director of communications and marketing, Global Affairs
On March 4, the sixth annual International Connections Reception, hosted by Global Affairs, brought together the UC Davis community in an online forum to celebrate globally engaged faculty, staff, and scholars. The event included the announcement of this year's Academic Federation and Academic Senate honorees for the Excellence in Teaching in Study Abroad Awards, conferred jointly between the Academic Senate and Global Affairs.
The awards recognize UC Davis instructors who go above and beyond in designing and teaching UC Davis Study Abroad programs. The recipients demonstrate exceptional dedication to student global learning by providing excellent program development, facilitating student engagement with the culture and people of the host countries in which they teach, showing responsiveness to the welfare of students, and mentoring them in their academic and career endeavors.
"Study abroad faculty and instructors play a pivotal role as we pursue our campus goal of Global Education for All. They create and lead innovate programs that make immersive global learning experiences possible for more and more of our students," said Joanna Regulska, vice provost and dean of Global Affairs.
"Their dedication to supporting student learning and wellbeing, and the unique ways in which they share about languages, cultures, histories, and perspectives from around the world are inspiring for us all," said Regulska.



2021 Excellence in Teaching in Study Abroad Award Recipients
Jay Grossi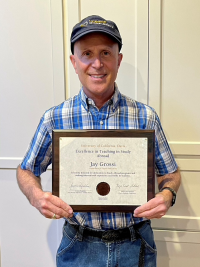 A continuing lecturer in Italian in the UC Davis College of Letters and Science's Department of French and Italian, Jay Grossi has been teaching at UC Davis for almost 27 years and has been leading the Summer Abroad program in Rome, "Art, Culture, History in the Eternal City," for 13 of those years. 

Grossi's passion and love for the Italian language and culture first grew after visiting Canton Ticino, the Italian-speaking area in Switzerland from which his grandparents emigrated. Following his own specialized studies of the language and culture, Grossi has shown notable pride and responsibility in continuously developing his UC Davis study abroad program in Italy. Award nominators praise Grossi's enthusiasm and knowledge along with his dedication and openness to making his program accessible for all students, whether they're studying art history, mathematics, political science, or any number of other majors. 

Committed to continually strengthening his own historical and sociological knowledge and intercultural awareness, Grossi instills this same sense of responsibility and compassion in his students. Students also benefit from Grossi's teaching style as he combines academic rigor and experiential learning with an overall focus on their wellbeing—before, during, and after the study abroad program.
In describing Grossi's program in Rome, one student nominator summed it up by saying: "It was the most delightful experience of my college career."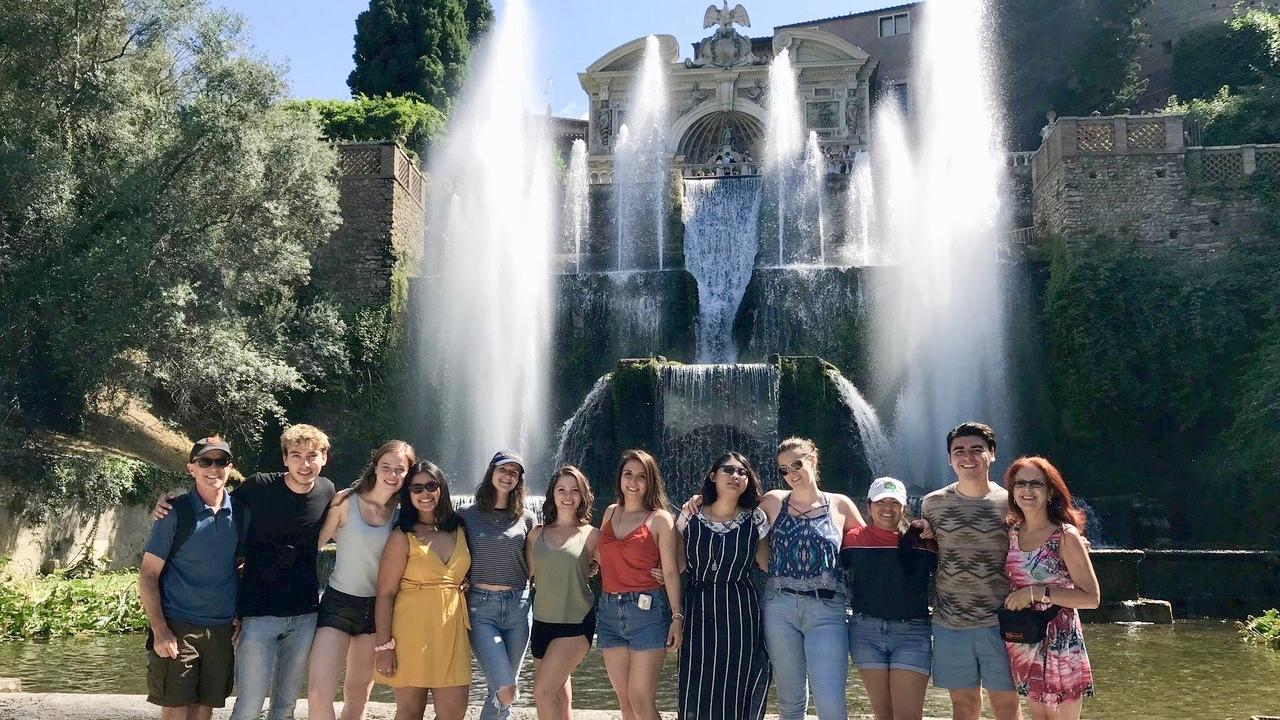 Ana Peluffo
A professor of Spanish and chair in the UC Davis College of Letters and Science's Department of Spanish and Portuguese, Ana Peluffo created the Summer Abroad program in Buenos Aires, Argentina, "Music, Film and Culture in the Global City," in 2004. Since then, she has led the program 15 times—each time, leading students through classes and excursions to encounter the city's many cultural offerings and to compare and discuss their observations with those formed from the works they have studied in literature and art.
According to award nominators, Peluffo's compassionate character and attentive teaching style "offer students a kaleidoscopic view of the history and culture of Argentina."
She effectively motivates students to engage with the culture and people of Argentina, develop their own relationship with the place, and ultimately develop confidence and autonomy as they engage with more unfamiliar places. She even provides non-native or non-fluent Spanish speakers the option of supplemental language lessons to improve their communication skills. One student nominator noted that this gave him "more confidence to have meaningful conversations with the locals."
In addition to her remarkable strengths in designing a multifaceted, stimulating program, Peluffo is known for her commitment to diversity and inclusion and to making study abroad more accessible to students. She supports and advocates for students from all backgrounds and for those with different abilities, language skills, and travel experiences—inspiring many in turn to help fellow students participate in global learning experiences such as study abroad.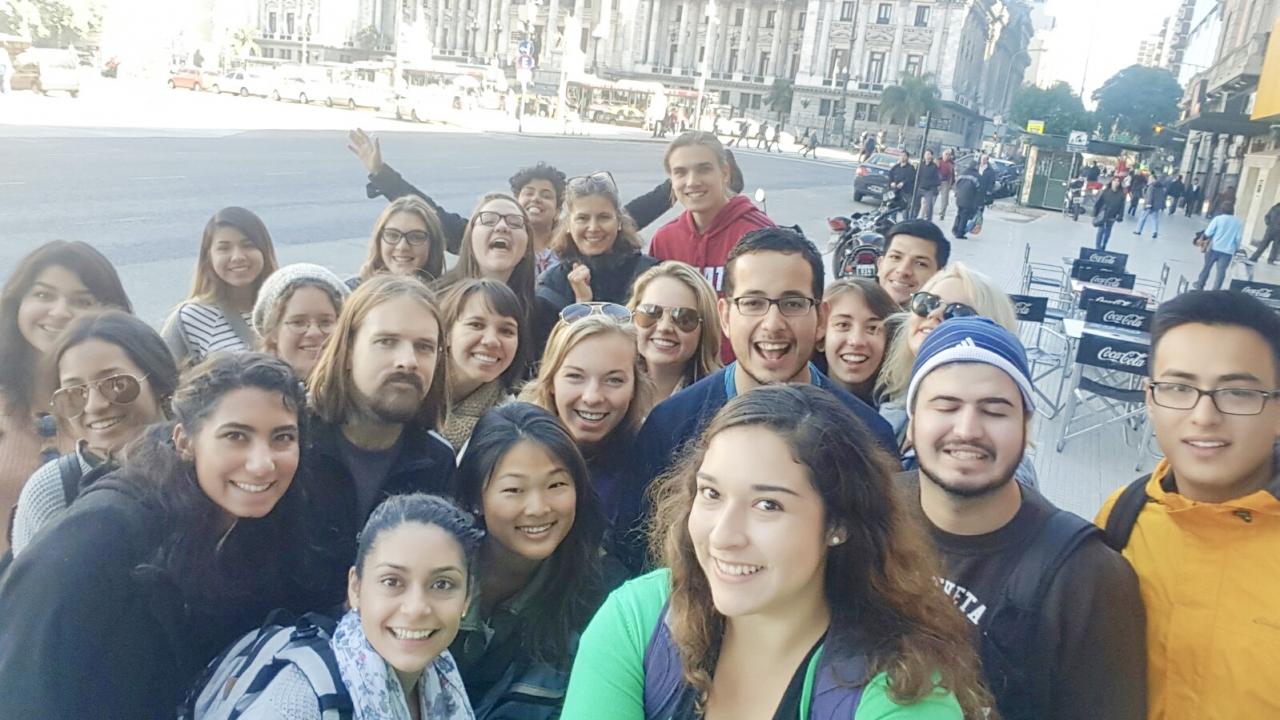 2021 International Connections Reception Announcements
Faculty and staff recipients of other awards and grants were also recognized at the March 4 event:
The Global Education for All Steering Committee and Global Education for All Fellows were recognized for their efforts in advancing the campus goal to provide 100% of students—undergraduate, graduate, and professional—with global learning experiences that change their lives and our world. The Global Strategy Advisory Committee was recognized for their engagement in strategic conversations to coordinate, elevate, and shape global engagement at UC Davis.
More Global Laurels
In 2020, UC Davis was named one of only four universities to receive NAFSA's 2020 Senator Paul Simon Award for Comprehensive Campus Internationalization, and as the only university to earn the Platinum Institutional Award for Global Learning, Research and Engagement from the Association of Public and Land-Grant Universities, or APLU.
---
About Global Affairs at UC Davis
Global Affairs brings the world to UC Davis, welcoming more than 10,000 international students, scholars and leaders, and hosting programs that inspire global curiosity, understanding and engagement. Compelled by the valuable outcomes of thinking globally, we make transformative opportunities a reality by supporting the thousands of students and faculty learning and researching globally—and by facilitating collaborations that tackle the world's most pressing challenges through more than 150 global partnerships.
Putting our vision of a UC Davis community that engages, thrives, and leads in this interconnected world into action, Global Affairs is in pursuit of an ambitious goal: Global Education for All.
Primary Category
Tags