UC Davis Recognized with NAFSA's Prestigious Simon Award for Campus Internationalization
UC Davis has been named one of only four U.S. universities to receive NAFSA's 2020 Senator Paul Simon Award for Comprehensive Campus Internationalization. This honor is bestowed annually to leading higher education institutions for excellence in internationalization efforts—both on campus and across the world.
Named after the late Sen. Paul Simon of Illinois, the NAFSA Simon Awards recognize outstanding and well-planned innovation and accomplishment in campus internationalization, defined by NAFSA as "a conscious effort to integrate and infuse international, intercultural and global dimensions into the ethos and outcomes of education." With more than 10,000 members, NAFSA is the world's largest nonprofit association dedicated to international education.
"This tremendous recognition truly belongs to the entire campus," said UC Davis Vice Provost and Associate Chancellor of Global Affairs Joanna Regulska. "UC Davis' global engagement is impressive in that it brings together contributions from a diversity of people, including students, faculty, staff, alumni, supporters and partners across the world. Our spirit of internationalization is collaborative and interdisciplinary."
A public land-grant university that consistently ranks among the top academic and most diverse institutions, UC Davis is the only comprehensive research university named among this year's Simon Award winners. In 2009, UC Davis was awarded the Simon Spotlight Award for building bridges between campus and the Middle East and Cuba.
A Global University
"This award affirms our commitment to being a premier global university. I am proud of our collective contributions to serving a global campus community and to fostering global partnerships that are tackling the most pressing challenges of our times," said UC Davis Chancellor Gary S. May.
In 2018, May led the campus in developing its Strategic Plan known as To Boldly Go, which has international and global initiatives woven throughout its five priorities. One such effort is known as Global Education for All, a Provost's Priority and campus goal to provide all 39,600 UC Davis undergraduate, graduate, and professional students with global learning experiences that prepare them for the opportunities and challenges of today and tomorrow. UC Davis is ensuring students have access to meaningful global academic, experiential, and living and leadership opportunities, such as study abroad and away, virtual international collaborations, global and virtual internships, research or projects that takes on global challenges near and far, and a newly launched Global Engagement Living and Learning Community in partnership with Student Housing.
"At UC Davis, we are committed to creating flexible, innovative, and accessible global learning opportunities for all of our students," said Regulska. "As one of the most diverse universities, we're proud to provide vital global learning experiences on campus and in the region for students for whom traditional study abroad programs might not be feasible nor desirable given any number of barriers.
Global Learning Hub Launches at UC Davis
The Global Learning Hub connects students with academic courses, both on campus or abroad; global internships, community-engaged learning or research opportunities; and with leadership opportunities right on campus, such as involvement with fellowships or our living and learning community in the dorms.
Faculty as Champions
Faculty across UC Davis are critical in internationalization efforts as they encourage global engagement through their teaching, course and curricula development—whether it be the Graduate School of Management integrating global capstone projects or the Schools of Medicine, Nursing, and Veterinary Medicine developing global One Health programs. Faculty also play a key role by engaging students in their international research projects and interdisciplinary collaborations the world over.
"All of our international agreements and partnerships have faculty champions who are critical to successful partnerships. Faculty are engaged across all seven continents and play a major part in developing international collaborations, research partnerships, and contributing to hosting international delegations," added Regulska.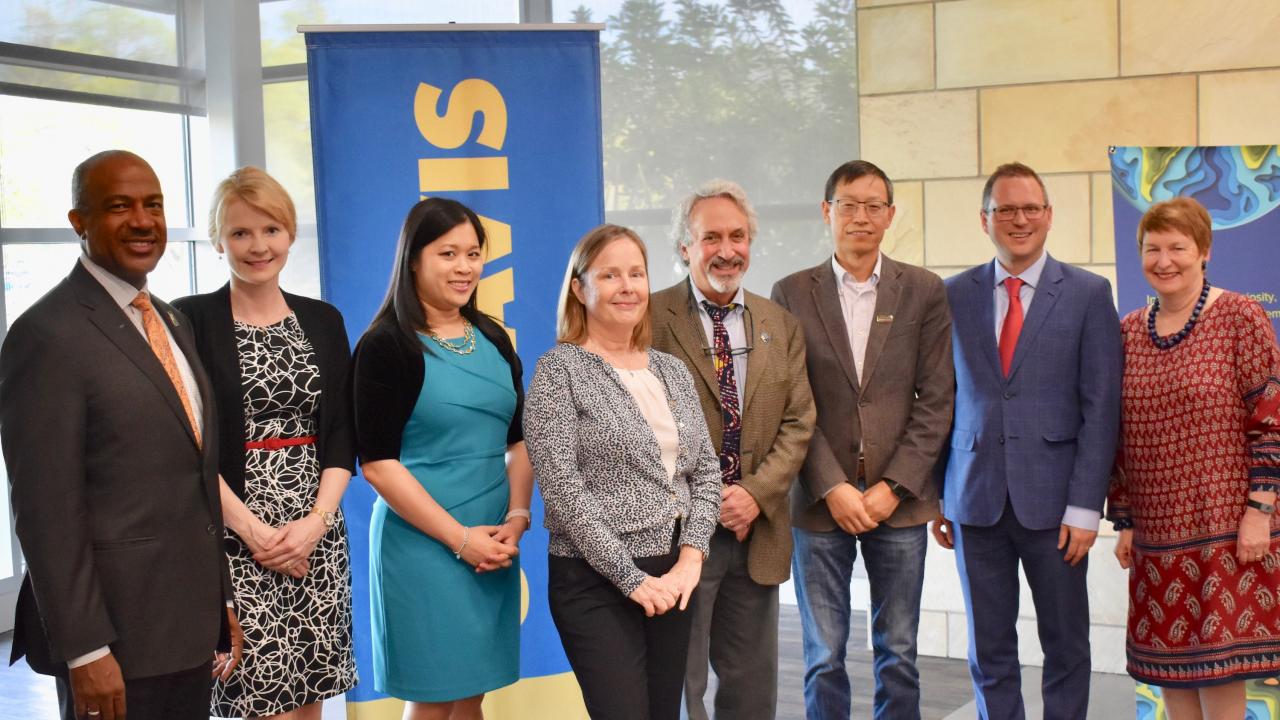 UC Davis Chancellor's Awardees Celebrated for Global Engagement
Faculty and staff members spanning four UC Davis colleges, schools, and units were honored as Chancellor's Awards for International Engagement recipients in 2020 for their outstanding global and international engagement in carrying out the university's missions of teaching, research, and service.
Connecting UC Davis with the World
The NAFSA award is also a reflection of UC Davis' external innovations, which include fostering partnerships around the world with national and international organizations and consortia, such as those aiming to advance the UN Sustainable Development Goals (SDGs). Among global campus initiatives, the Campus Global Theme stands out as it engages the entire campus community and partner organizations in discussion and action related to the inaugural SDG-related theme of Food for Thought: Feeding Ourselves, Feeding the Planet. Alongside other faculty grant programs, Global Affairs recently launched new Grants for Advancing SDGs to fund team-focused, multi-disciplinary programs that contribute to one or more SDGs. The first five selected projects contribute towards 14 of the 17 SDGs—locally and globally—bringing together more than 12 UC Davis colleges, schools, and units, and more than 10 external partners.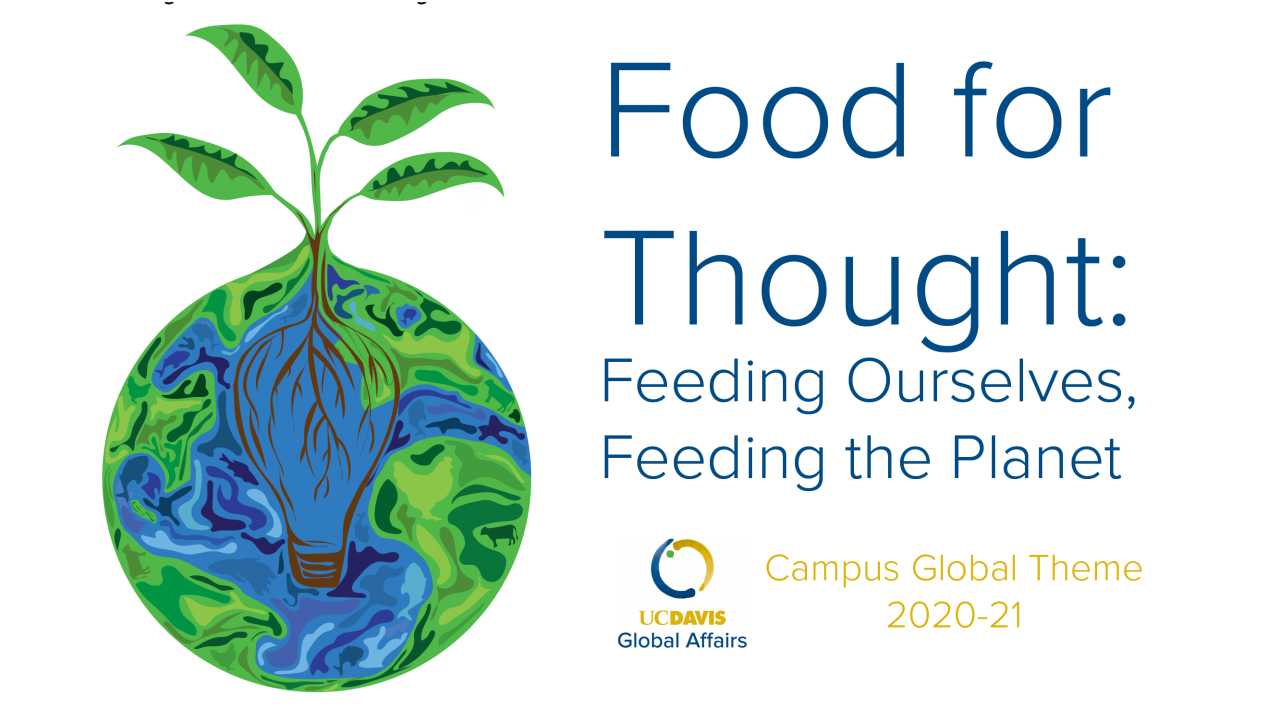 First Campus Global Theme Launches at UC Davis
The Campus Global Theme provides opportunities for students, faculty, staff, and community networks to share and develop their interests and skills through workshops, seminars, projects, performances and other types of programs, all focused on the global dimensions of food.
Recognition from the Simon Award comes at the heels of UC Davis being named a top producer of Fulbright U.S. Scholars, a top producer of Peace Corps volunteers, and ranking 14th among U.S. public universities for hosting international students and 5th for hosting international scholars. A Global Strategic Plan for UC Davis is in development to maintain this status as a premier global university and to continue this work of integrating internationalization into the ethos of the university.
"All told, these internationalization efforts reaffirm and advance UC Davis' global commitment to its tri-part teaching, research, and service mission," said Regulska. "Through this spirit of global engagement, UC Davis sees comprehensive internationalization as a way to advance the global good in California and around the world."
Primary Category
Tags