2021 Chancellor's Awardees Honored for Global Engagement at UC Davis and Around the World
By Bonnie Shea, executive director of communications and marketing, Global Affairs
The sixth annual UC Davis International Connections Reception, hosted by Global Affairs on March 4, brought together the UC Davis community in an online forum to celebrate several award and grant programs, including the 2021 Chancellor's Awards for International Engagement, presented by Chancellor Gary S. May.
The awards recognize faculty and staff members for outstanding international engagement in advancing the university's teaching, research and service missions, whether through leading global research projects, collaborating with colleagues around the world, promoting global learning or innovative pedagogy, or facilitating these activities to create positive change.
"I'm so impressed with the innovation and commitment demonstrated by our faculty and staff. They're globally engaged—not just for their own professional development or increased research impact, but for our students and our whole university community," said May.
In 2020, UC Davis was named one of only four universities to receive NAFSA's 2020 Senator Paul Simon Award for Comprehensive Campus Internationalization, and as the only university to earn the Platinum Institutional Award for Global Learning, Research and Engagement from the Association of Public and Land-Grant Universities, or APLU.
"We couldn't advance UC Davis' mission through global engagement without the dedication of faculty and staff," said Joanna Regulska, vice provost and dean of Global Affairs. "In this ever-evolving environment, the local, global and virtual efforts and collaborations of faculty and staff are critical for solving global challenges and creating accessible global learning opportunities for our students."
2021 Chancellor's Award for International Engagement Recipients
Katharine Burnett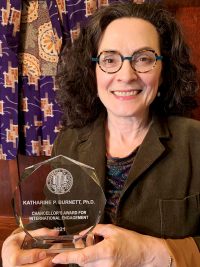 In her more than two decades at UC Davis, Katharine Burnett, a professor of art history and faculty director of the Global Tea Initiative for the Study of Tea Culture and Science in the College of Letters and Science, has been known for her contagious enthusiasm for art history and for tea culture and science.
Award nominators describe Burnett as "a tireless leader with a global vision to build the most unique and comprehensive program for the study of tea culture and science at any university in the world."
As the founding director of the UC Davis Global Tea Initiative, Burnett leads the world's only organization aimed at investigating tea from across the disciplines and around the world. She skillfully leverages UC Davis' academic and research strengths in agriculture, health, the sciences, the humanities and the social sciences in creatinga global platform for the intellectual and cultural exploration of tea.
She also builds lasting interdisciplinary partnerships and brings together students, academics, researchers, government officials, industry leaders, marketers, consumers, and communities across the globe, including from Asia, Africa, the Americas, and Europe. One shining example is her international engagement and dedication in leading the international and ever-popular Global Tea Initiative Colloquium at UC Davis, which has been held annually since 2016.
In addition to sharing knowledge through colloquia and symposia, Burnett mentors students in their global research and inspires them in her teaching of the rich history and culture of tea. According to nominators, her global relationships on campus and around the world will "serve UC Davis communities for generations to come."
Jonna AK Mazet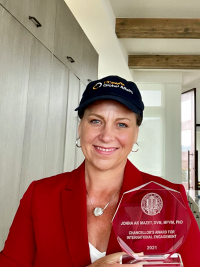 Jonna AK Mazet is a Global Aggie through and through. The professor of epidemiology and disease ecology and founding executive director of the One Health Institute in the School of Veterinary Medicine has earned a total of four degrees from UC Davis, has led groundbreaking research with international partners, and has trained and mentored thousands of students and professionals across more than 30 countries.
Over her more than two decades as a faculty member on campus, Mazet has been a visionary leader who turns ideas into reality.
As award nominators put it: "she combines her service-oriented skills and transdisciplinary approaches to solve critical scientific and societal issues relating to global health and emerging infectious diseases."
Starkly evident during the COVID-19 pandemic, innovative programs that improve global pandemic preparedness are critical. Her work employs the One Health approach to understand and mitigate disease transmission among animals and people. Under her leadership, the One Health Institute became an international leader in this space, including through Mazet's directing the USAID-funded PREDICT project and One Health Workforce – Next Generation project. Her teams have partnered with over 100 institutions, discovered over 1,000 viruses, improved global capacity, and trained over 6,000 people across Africa, Asia, and the Americas – many of whom are now vital frontline responders and experts in COVID-19 response.
In addition to her outstanding scholarship and ability to bring together diverse public and private organizations to solve global challenges, Mazet's nominators describe her as "a gifted lecturer and an exceptional mentor to the future generation of professionals who will impact global health well into the future."
Scott Palmer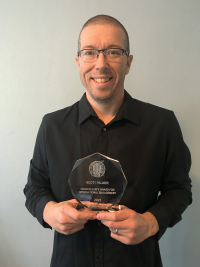 Thanks to Scott Palmer, a prestigious scholarship advisor since 2013 in the Office of Undergraduate and Prestigious Scholarships within Financial Aid and Scholarships, UC Davis is one of the preeminent universities in successfully placing students in international scholarship programs. Embodying UC Davis' goal of Global Education for All students, Palmer provides comprehensive advising, teaches seminars, promotes the most relevant programs to the highest number of students, and increases student participation among 27 competitive scholarship programs.
The results are apparent. Palmer's efforts have led to a momentous increase in Gilman Scholarship and Fulbright U.S. Student participation, solidifying UC Davis' ranking as a Top Gilman Producer in 2016-17 and 2018-19 and as a Top Fulbright U.S. Student Producer in 2019. Most recently, in 2020, two students earned Marshall Scholarships, doubling UC Davis' participation since the highly competitive program began nearly 70 years ago.
According to award nominators, Palmer "shows students that nothing is beyond their reach, that international engagement is not a dream, but a reality—and he is there to help them reach it."
One student Palmer advised, Estevan Sánchez, a double major in African American and African studies and history, earned three prestigious scholarships (Critical Language, Fulbright, and Gilman) over three years, making it possible for him to learn and live in Oman, Morocco, and Jordan respectively.
Palmer is also committed to furthering his own global learning and intercultural understanding to better advise students. He participated in the National Association of Fellowship Advisors Study Tour and the Fulbright International Education Administrators Program, and served as a Global Affairs Staff Ambassador.
2021 International Connections Reception Award Announcements
Faculty and staff recipients of other awards and grants were also recognized at the March 4 event:
The Global Education for All Steering Committee and Global Education for All Fellows were recognized for their efforts in advancing the campus goal to provide 100% of students—undergraduate, graduate, and professional—with global learning experiences that change their lives and our world. The Global Strategy Advisory Committee was recognized for their engagement in strategic conversations to coordinate, elevate, and shape global engagement at UC Davis.
---
About Global Affairs at UC Davis
Global Affairs brings the world to UC Davis, welcoming more than 10,000 international students, scholars and leaders, and hosting programs that inspire global curiosity, understanding and engagement. Compelled by the valuable outcomes of thinking globally, we make transformative opportunities a reality by supporting the thousands of students and faculty learning and researching globally—and by facilitating collaborations that tackle the world's most pressing challenges through more than 150 global partnerships.
Putting our vision of a UC Davis community that engages, thrives, and leads in this interconnected world into action, Global Affairs is in pursuit of an ambitious goal: Global Education for All. 
Primary Category
Tags