Humphrey Fellows Put Students in the Driver's Seat on Climate Action
This fall, the 2022–23 UC Davis Humphrey fellows arrived on campus with the goal of strengthening their professional development and collaborating on global challenges using their collective expertise. During the fall quarter in collaboration with UC Davis Sustainability, the fellows facilitated a First-Year Aggie Connection for new undergraduate, international and transfer students on climate change.
Leading the Way
Among the accomplished ranks of this 31st cohort of Humphrey fellows are Rudo Chasi, an attorney from Zimbabwe who specializes in natural resources and environmental and climate policy, Silas Ekesa, a conservation educator from Kenya, and Tamia Quilumbaquí, a social worker and human rights advocate from Ecuador. These fellows, alongside Sustainability colleagues Camille Kirk, director of sustainability and campus sustainability planner, and Carla Fresquez, engagement program manager, and Global Affairs colleagues Karen Beardsley, director of the Humphrey program, and Nikki Grey Rutamu, associate director of the Humphrey program, helped spearhead the Connection Your Turn: How Would You Solve Climate Change? Tackle Climate Change Through Learning and Modeling Solutions.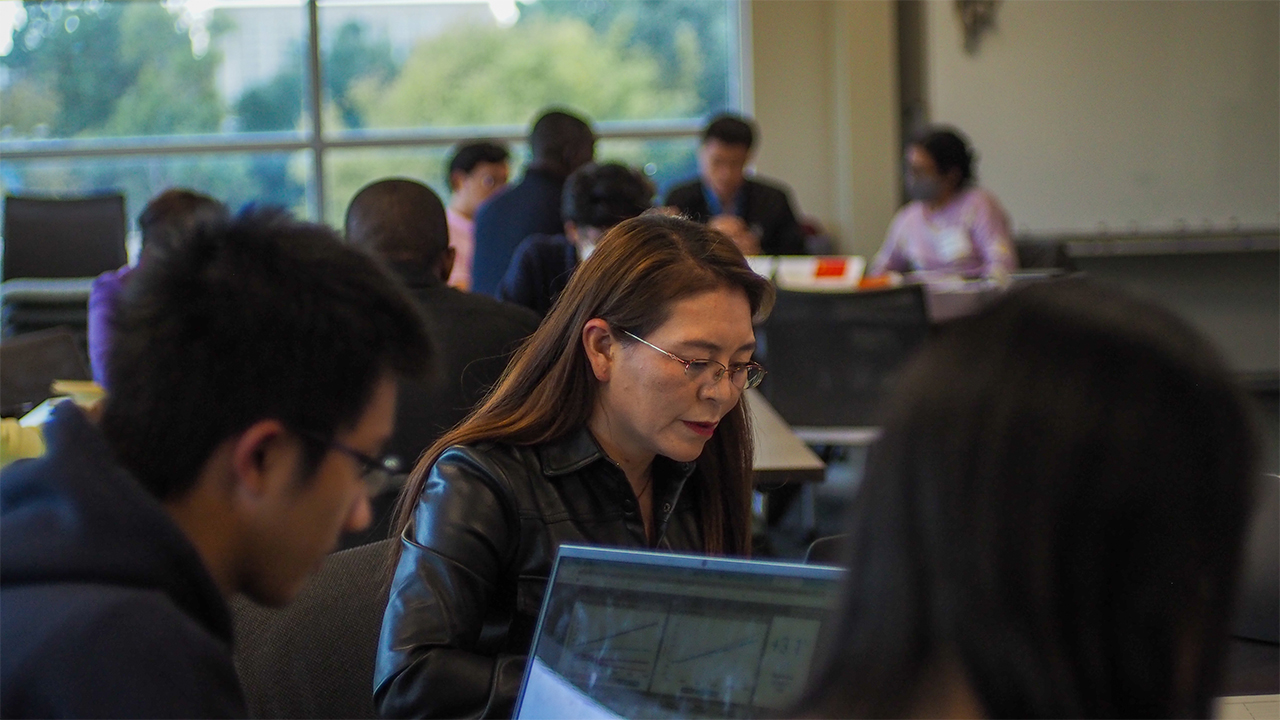 Joined by others from their cohort, including Syed Muhammad Ahsan Abbas (Pakistan) Samtso Caoji (Tibet, China), Luis Nieto (El Salvador), and Sushila Thing (Nepal), Chasi, Ekesa and Quilumbaquí shared real-world experiences, engaged students and challenged students to negotiate climate action for the global good.
"As fellows, we get the unique opportunity to train and mentor first-year Aggies on the requisite skill set needed for dealing with climate change at a global level," Chasi said. "We use our different professional backgrounds to offer support during the sessions."
Modeling United Nations Efforts
Each year, through a partnership with Sustainability, Humphrey fellows run a version of this simulation for students using the same simulation tool that actual United Nations negotiators, secretaries of state, Nobel Prize-winning scientists and countless students have all used to understand collective action on climate change. Undergirding this work are the United Nations Sustainable Development Goals (SDGs) and direct engagement with SDG 13: Climate Action.
By acting as mentors to new students, the Humphrey fellows provide professional guidance on the most effective ways to instigate social, cultural and global change, helping shape students' understanding of actionable results.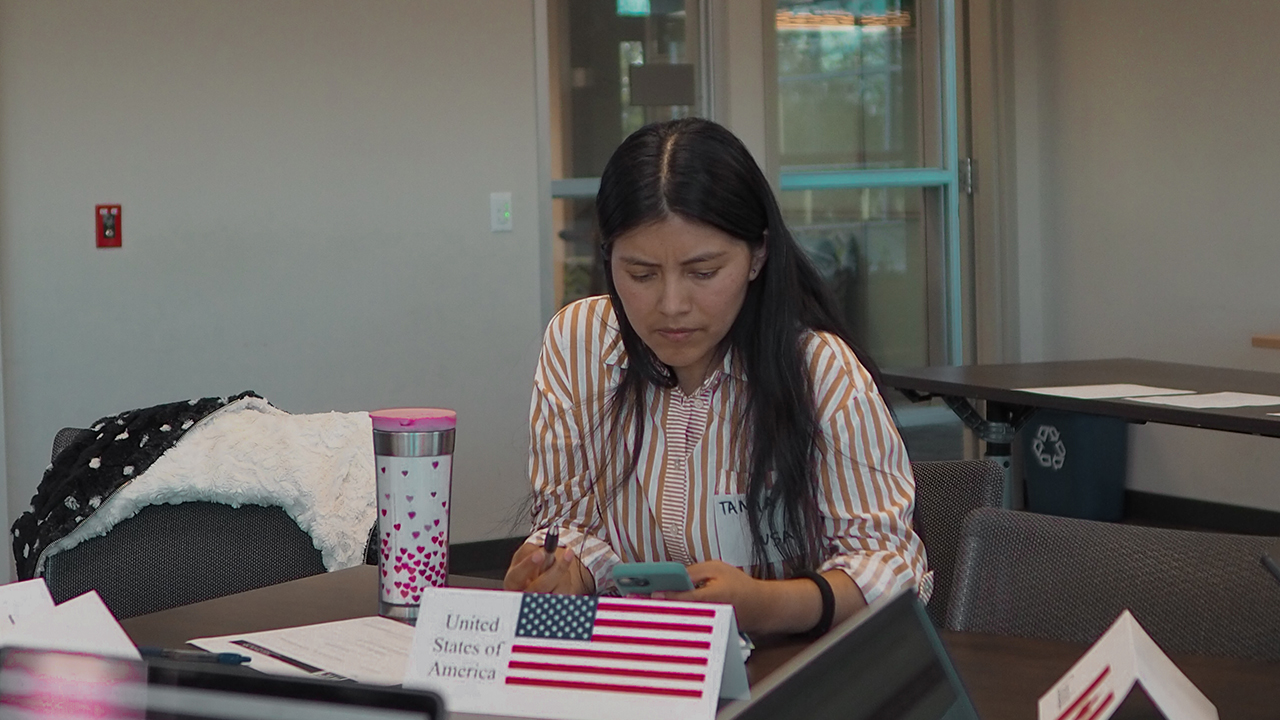 Focusing on Negotiation and Collaboration
The small-group Connection began with a training session on what negotiation is by sharing practical examples that illustrated how often students negotiate in their daily lives. This escalated to additional trainings on what professional negotiations look like on a global level.
The seven-week Connection concluded with a climate change negotiation simulation that mirrored the global forums in which climate issues are discussed.
"It is helpful to use this kind of simulation so civil society and organizations at the local level can understand this global issue and contribute to the discussions around this topic. Especially those who are often left behind in these negotiations and usually face more of the impacts of climate change," said Quilumbaquí.
Simulation for the Greater Good
Supported by Sustainability and under the guidance of the Humphrey fellows, participants acted as representatives from developed and developing countries, working together to accept or reject proposals based on the interests of their "homeland"—with the ultimate goal of stopping a two-degree global rise in temperature.
"The simulation is a fun and exciting session in which countries work to reduce emissions and provide funding support for climate mitigation projects," Chasi said. "So, when we scale to a global setup, the big reveal is that each country has its own set of goals that don't necessarily coincide with the interests of the others. Students must then collaborate to move toward the target."
The fellows noted that students were up to the task and came prepared to negotiate. One student, who represented China, even created a platform to test out the art of lobbying and consensus building. Students weren't the only participants to take away key learnings.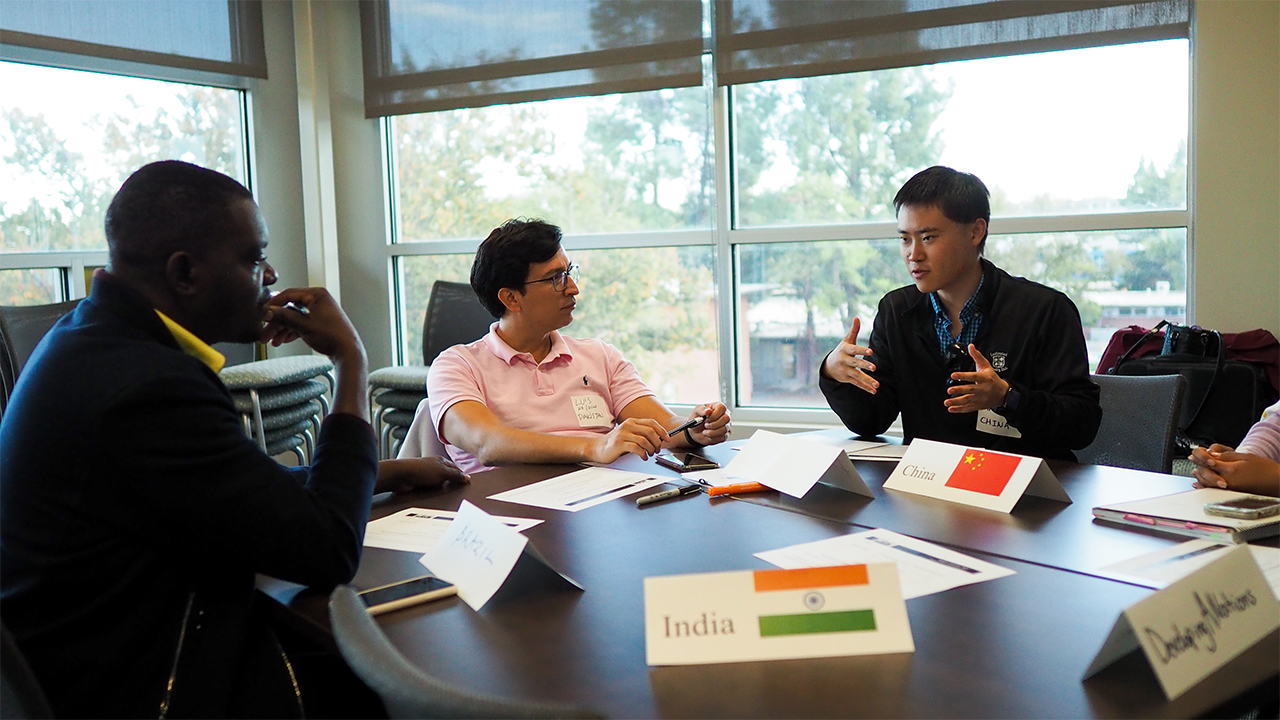 "Representing Brazil in the talks made me realize how important forests are to climate action and why developed countries can finance developing countries that still have space for afforestation to stir global carbon emissions reduction," Ekesa said. "This time-consuming process calls for patience and a high level of flexibility from various regions and countries to create an ambitious but very achievable agreement that gives equal opportunity to every party."
Many participants stepped out of their comfort zones to represent countries very different from their own. Quilumbaquí, who is from Ecuador, took on the interests of her host country.
"During the climate simulation I represented the U.S. Honestly, it was a challenge, but at the same time made me aware and curious to understand in depth the topic," she said. "It was an interesting experience and educational because I could imagine the efforts needed to negotiate a global agreement about climate change."
Building for the Future
Students in the Connection built on their lived experiences with climate change by hearing the perspectives of people from around the world. They got a better understanding of the challenges and interests of other countries and had an opportunity to learn about the various facets that contribute to developing solutions.
By participating in this Connection, the fellows hope to contribute to the development of future climate leaders.
"Climate negotiations are not just about reduction of greenhouse gases, but also about bilateral relations in terms of trade sanctions, economic sabotage and disregard of indigenous communities in climate action," said Ekesa. "After all, it is humans who act to correct global warming problems caused by themselves by addressing the costly effects of industrialization, heavy infrastructure, deforestation, poor government policies, and poor distribution of resources. A global agreement embedded in local actions to reach one single solution as a world is the only choice left."
---
About Global Affairs at UC Davis
Global Affairs brings the world to UC Davis, welcoming more than 10,000 international students, scholars and leaders, and hosting programs that inspire global curiosity, understanding and engagement. Compelled by the valuable outcomes of thinking globally, we make transformative opportunities a reality by supporting the thousands of students and faculty learning and researching globally—and by facilitating collaborations that tackle the world's most pressing challenges through more than 150 global partnerships.
Putting our vision of a UC Davis community that engages, thrives, and leads in this interconnected world into action, Global Affairs is in pursuit of an ambitious goal: Global Education for All.
About the Hubert H. Humphrey Fellowship Program
An initiative of the U.S. State Department's Bureau of Education and Cultural Affairs, the Hubert H. Humphrey Fellowship Program was founded in 1978 by President Jimmy Carter to honor the late senator and vice president, Hubert H. Humphrey, an advocate of international connections and understanding.
Primary Category
Secondary Categories
Tags