UC Davis Introduces 12 Hubert H. Humphrey Fellows Joining Campus in 2022-23
UC Davis welcomes its 31st cohort of the Hubert H. Humphrey Fellowship Program. The prestigious program brings accomplished mid-career professionals from countries around the world to host universities throughout the United States. Twelve fellows from 11 different countries will spend the 2022-23 academic year in Davis strengthening their professional skills, improving their leadership abilities, and engaging in meaningful collaboration and connections across campus.
UC Davis is one of 13 university hosts of the fellowship program, an initiative of the U.S. State Department's Bureau of Education and Cultural Affairs and administered by the Institute of International Education (IIE). Since 1986, UC Davis has hosted 320 Humphrey Fellows from more than 100 countries.
"Our 2022-23 cohort includes knowledgeable leaders in many areas, such as renewable energy, water, climate change and agricultural issues, just to name a few," says Nikki Grey Rutamu, associate director of the Hubert H. Humphrey Fellowship Program within Global Affairs. "We have an exciting program in store for them with innovative learning activities and events. The fellows are eager to begin connecting with the UC Davis campus community and to contribute to shared interests."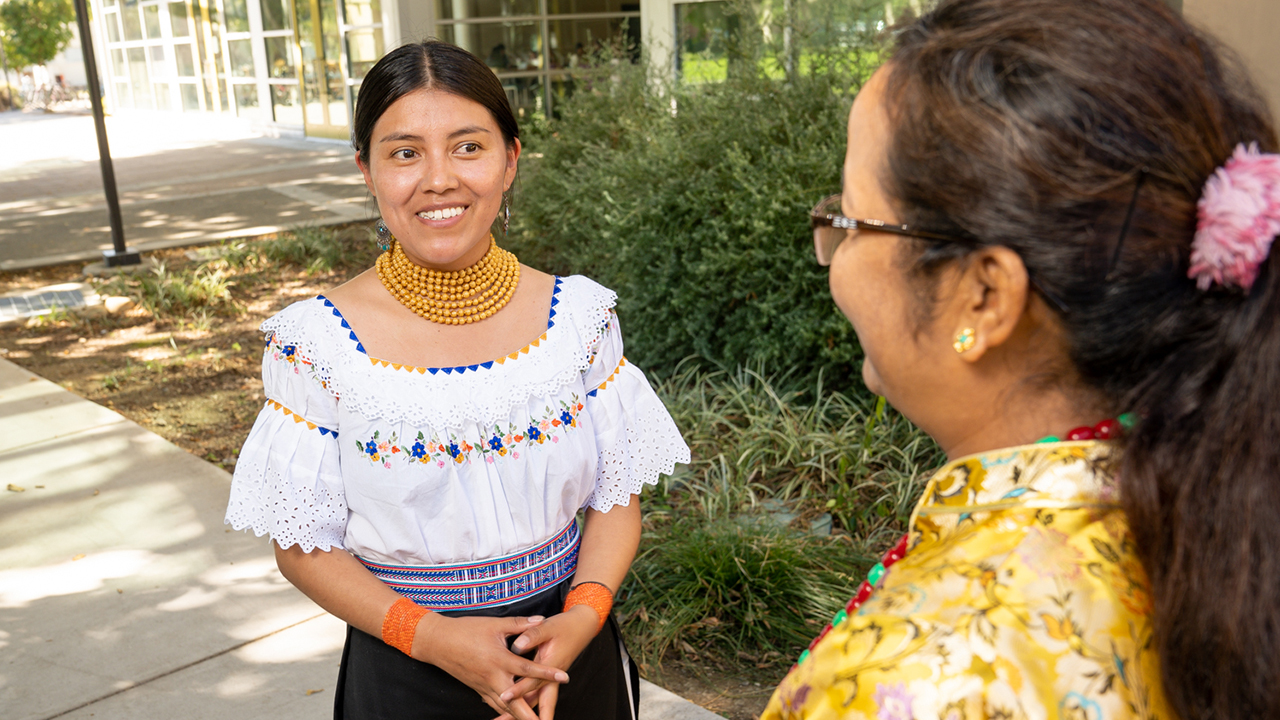 The incoming cohort consists of fellows from Azerbaijan, Bulgaria, Ecuador, El Salvador, Equatorial Guinea, Kenya, Nepal, Pakistan, South Korea, Tibet (China) and Zimbabwe. With many years of experience across environmental, climate and agricultural issues, fellows are actively working to achieve the United Nations (UN) Sustainable Development Goals (SDGs), a set of 17 goals adopted by all UN member states that aim to achieve a better and more sustainable future for all.
"We are proud to welcome fellows with diverse backgrounds, experiences and skills to UC Davis. Over the next several months, they will enhance and share their professional expertise, discover partnerships within their surrounding professional community, and form lifelong bonds with their cohort and host families in Davis," says Dr. Karen Beardsley, director of the Hubert H. Humphrey Fellowship Program within Global Affairs.
This year, the cohort will share many experiences, including participation with local non-profit organizations, government units and campus partners. The fellows will have the opportunity to engage in community events, conferences and seminars. One such activity is a multi-campus seminar series hosted by UC Davis that focuses on climate change and brings together fellows across disciplines at Humphrey Fellowship Program host universities throughout the country to better the understanding of climate change and adaptation strategies.
"We all benefit from the Humphrey Fellows' presence in our community," says Joanna Regulska, vice provost and dean of Global Affairs. "They offer unique perspectives and experiences to UC Davis. It is our honor to connect with meaningful partners so fellows may engage with our community and work together toward resolving some of today's most critical challenges."
Those interested in making connections and collaborating with the Humphrey Fellowship Program at UC Davis should contact Director Karen Beardsley at kbeardsley@ucdavis.edu or Associate Director Nikki Grey Rutamu at ngreyrutamu@ucdavis.edu.
See the biographies of past and present UC Davis Hubert H. Humphrey Fellows
Primary Category
Tags