UC Davis Welcomes 11 New Humphrey Fellows to Campus
By Bonnie Shea, director of communications, Global Affairs
On August 13, UC Davis welcomed its 29th cohort of Hubert H. Humphrey Fellowship Program participants — 11 accomplished mid-career professionals from 11 different countries — who are spending the 2019-20 academic year strengthening their professional skills, improving their leadership abilities, and engaging in meaningful collaboration.
UC Davis is one of 13 university hosts of the fellowship program, an initiative of the U.S. State Department's Bureau of Education and Cultural Affairs and administered by the Institute of International Education (IIE). Since 1986, UC Davis has hosted 296 Humphrey Fellows from 105 countries.
"We are honored to host another fantastic cohort of fellows at UC Davis this year. While at UC Davis, our fellows help provide our campus and community with a deeper, nuanced understanding of the complex agricultural and environmental issues affecting our world," said Nikki Grey Rutamu, associate director of the Hubert H. Humphrey Fellowship Program within Global Affairs.
Among the 2019-20 cohort are fellows from Bangladesh, China, the Democratic Republic of Congo, Gabon, Honduras, Lebanon, Panama, Sri Lanka, South Sudan, Tunisia, and Vietnam, bringing perspectives and expertise in fields such as agriculture and rural development, natural resources and environmental science, and environmental policy.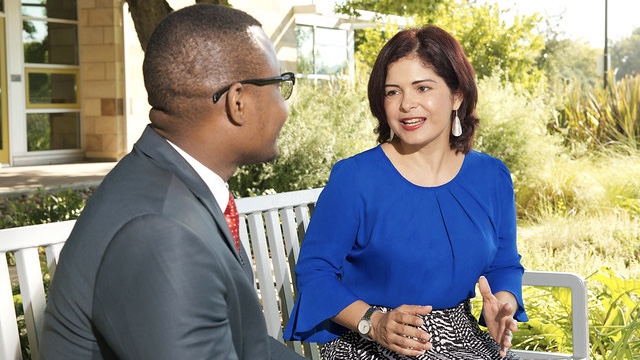 The fellows will participate in various community events, conferences and seminars, with activities ranging from installing solar panels on homes with non-profit organization GRID Alternatives to participating in a UC Davis World Food Center conference on dialogues and discourse in science and society.
"The skills they develop in environmental policy, human interaction with protected areas, resource conservation and efficiencies along with the relationships they build go forward to benefit communities across the globe," said Grey Rutamu.
On September 27 at 1 p.m., UC Davis Global Affairs is hosting a public welcome event and reception at the UC Davis International Center, where each fellow will formally introduce themselves to the campus and community, share about their backgrounds and experiences, and describe how they plan to spend their time collaborating at UC Davis and across the United States.
"We're proud to be one of only three universities in the U.S. to host both the Hubert H. Humphrey Fellowship Program and the Mandela Washington Fellowship, both supported by the U.S. Department of State," said Joanna Regulska, vice provost and associate chancellor of Global Affairs. "Given the tremendous experience these international leaders bring to campus and the natural fit with our academic strengths at UC Davis, we continue to see fellows meaningful collaboration between our hundreds of fellows all over the world and our students, faculty, staff, and community members."
Martin Kailie, a 2017-18 UC Davis Humphrey Fellow began collaborating with Dana Armstrong, an international agricultural development graduate student, and Peter Nasielski, a design and sustainable environmental design undergraduate student, after meeting on campus. The trio began working on a sustainability project together, eventually traveling to Kailie's home country of Sierra Leone to complete a feasibility study. Another student, Leanne Bolaño, an environmental science and management major, put her coursework into action with 2015-16 UC Davis Humphrey Fellow Kakhaber Bakhtadze as they worked on business planning and training effortsfor entrepreneurs in his home country of Georgia.
Those interested in collaborating with the Humphrey Fellowship Program at UC Davis should contact Associate Director Nikki Grey Rutamu at ngreyrutamu@ucdavis.edu.
---
About Global Affairs at UC Davis
Global Affairs brings the world to UC Davis, welcoming more than 10,000 international students, scholars and leaders, and hosting programs that inspire global curiosity, understanding and engagement. Compelled by the valuable outcomes of thinking globally, we make transformative opportunities a reality by supporting the thousands of students and faculty studying and researching internationally—and by facilitating collaborations that tackle the world's most pressing problems through more than 150 international partnerships.
Putting our vision of a UC Davis community that engages, thrives, and leads in this interconnected world into action, Global Affairs is now in pursuit of an ambitious goal: Global Education for All.
---
About the Hubert H. Humphrey Fellowship Program
An initiative of the U.S. State Department's Bureau of Education and Cultural Affairs, the Hubert H. Humphrey Fellowship Program was founded in 1978 by President Jimmy Carter to honor the late senator and vice president, Hubert H. Humphrey, an advocate of international connections and understanding.
Primary Category
Tags