UC Davis Welcomes its 300th Hubert H. Humphrey Fellow
Quick Summary
This is the 30th cohort of the Hubert H. Humphrey Fellowship Program at UC Davis.
Since 1986, UC Davis has hosted 308 Humphrey Fellows.
Over the years, fellows have been from 106 different countries.
UC Davis celebrates a milestone as it welcomes its 300th Humphrey Fellow, part of its 30th cohort of the Hubert H. Humphrey Fellowship Program. The prestigious program brings accomplished mid-career professionals from countries around the world to universities throughout the United States. Twelve fellows from across the globe are spending the 2021-22 academic year in Davis strengthening their professional skills, improving their leadership abilities, and engaging in meaningful collaboration and virtual connections across campus.
UC Davis is one of 13 university hosts of the fellowship program, an initiative of the U.S. State Department's Bureau of Education and Cultural Affairs and administered by the Institute of International Education (IIE). Since 1986, UC Davis has hosted 308 Humphrey Fellows from 106 countries.
Welcoming Humphrey Fellows Back to UC Davis
"We are deeply honored to host another accomplished cohort of Humphrey Fellows at UC Davis. The COVID-19 global pandemic has challenged the world. We continue to adapt and innovate our program and are excited to be back on the UC Davis campus. We are glad to welcome our 2021-22 cohort of fellows, connecting with our campus and community as they contribute to a greater understanding of agricultural, conservation and environmental issues affecting our world," says Nikki Grey Rutamu, associate director of the Hubert H. Humphrey Fellowship Program within Global Affairs.
The 2021-22 cohort consists of fellows from Brazil, Chile, China, Colombia, Eritrea, Georgia, Iran, Kazakhstan, Kenya, Liberia, Panama and Sudan. Each fellow brings perspectives and expertise in fields such as renewable energy, livestock development, wildlife conservation, environmental policy, climate advocacy and social justice. With knowledge across environmental, climate and agricultural issues, fellows are actively working to achieve United Nations (UN) Sustainable Development Goals (SDGs), a set of 17 goals adopted by all UN member states that aim to achieve a better and more sustainable future for all.
"Through the Humphrey Fellowship Program, we welcome fellows with diverse backgrounds, experiences and skills. In addition to honing their professional expertise, the fellows develop close friendships within their cohort and with host families and establish life-long partnerships with scientists and leaders on the UC Davis campus, within the Davis professional community and beyond. We all benefit from their presence in our community," says Karen Beardsley, director of the Hubert H. Humphrey Fellowship Program within Global Affairs.
Learning, Volunteering, Making an Impact
This year, the cohort will share many experiences, including participation with local non-profit organizations, government units and campus partners. The fellows have already begun to participate in a combination of in-person and virtual community events, conferences and seminars.
"The program is wonderful," reflects Ahmed Osman Abdalgader, a UC Davis Humphrey fellow from Sudan and director of renewable energy technology for Sudanese Electricity Holding Company. "The seminars we had in leadership and climate change are very informative, moreover the voluntary work we did with Yolo Basin Foundation was enjoyable."
This fall, the cohort spent time volunteering with Yolo Basin Foundation, a community organization in the Davis area that established the Yolo Wildlife Area and promotes environmental education. Fellows learned about the wildlife areas and concerns in the region and studied the wildlife, including bats and hawks.
They have also started a virtual multi-campus seminar series focused on climate change, unifying fellows across disciplines at universities throughout the country to better the understanding of climate change and adaptation strategies that can be applied in their host countries.
In addition to group activities, the fellows have begun pursuing individual opportunities. Khatia Basilashvili, a UC Davis Humphrey fellow from Georgia and an accomplished wildlife conservationist, volunteers weekly at the UC Davis California Raptor Center working alongside campus colleagues to care for and study the animals. Andréia Coutinho Louback, a UC Davis Humphrey fellow from Brazil and a journalist specializing in climate justice, joined other climate change leaders at the COP 26 UN Climate Change Conference.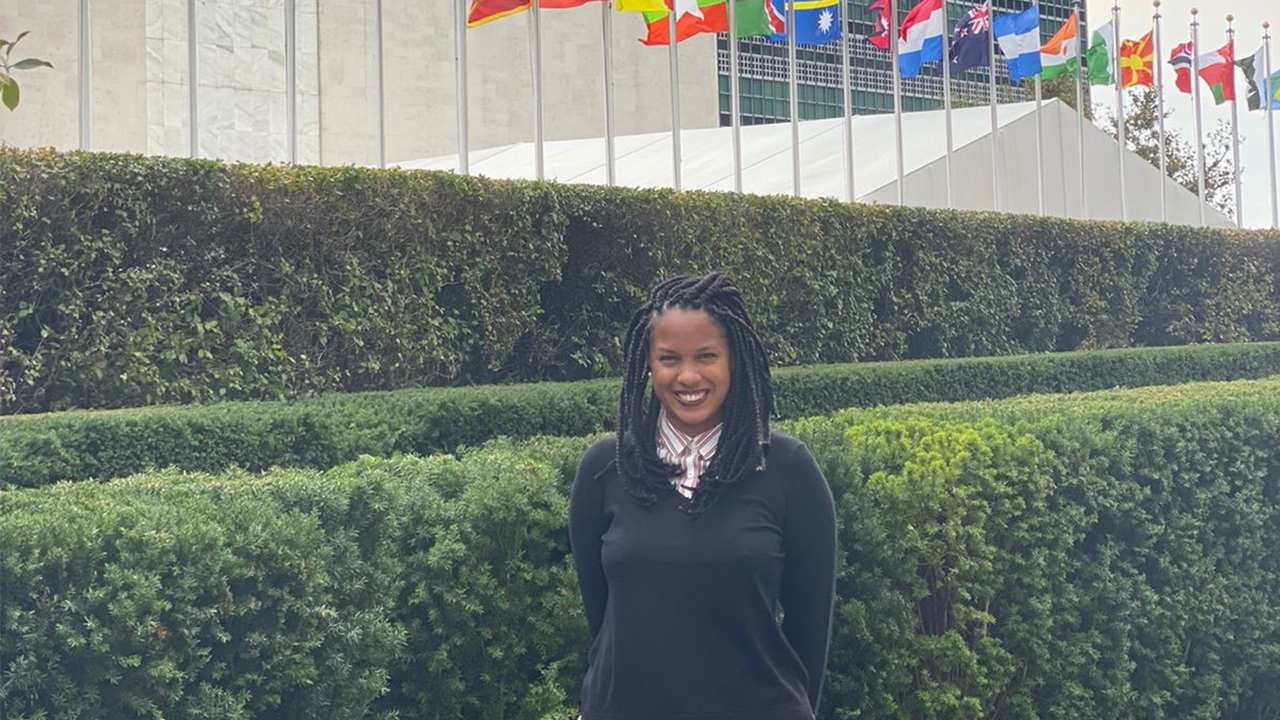 Looking Forward to the Year Ahead
 "Our Humphrey Fellows bring remarkable experiences and perspectives to UC Davis. Whether in person or virtually, we are thrilled to engage in meaningful partnerships with our fellows and our global campus community," says Joanna Regulska, vice provost and dean of Global Affairs.
"[I look forward to having a] deep and wide connection with campus in the future," says Huiyong Zhang, a UC Davis Humphrey fellow from China and head of the Secretariat of China Council for International Cooperation on Environment and Development. "I would like to know more people, including professors and others in communities to have deeper understanding of them and make friends with them."
Those interested in making connections and collaborating with the Humphrey Fellowship Program at UC Davis should contact Director Karen Beardsley at kbeardsley@ucdavis.edu or Associate Director Nikki Grey Rutamu at ngreyrutamu@ucdavis.edu.
See the biographies of past and present UC Davis Hubert H. Humphrey Fellows
---
About Global Affairs at UC Davis
Global Affairs brings the world to UC Davis, welcoming more than 10,000 international students, scholars and leaders, and hosting programs that inspire global curiosity, understanding and engagement. Compelled by the valuable outcomes of thinking globally, we make transformative opportunities a reality by supporting the thousands of students and faculty learning and researching globally—and by facilitating collaborations that tackle the world's most pressing challenges through more than 150 global partnerships.
Putting our vision of a UC Davis community that engages, thrives, and leads in this interconnected world into action, Global Affairs is in pursuit of an ambitious goal: Global Education for All.
---
About the Hubert H. Humphrey Fellowship Program
An initiative of the U.S. State Department's Bureau of Education and Cultural Affairs, the Hubert H. Humphrey Fellowship Program was founded in 1978 by President Jimmy Carter to honor the late senator and vice president, Hubert H. Humphrey, an advocate of international connections and understanding.
Primary Category
Tags